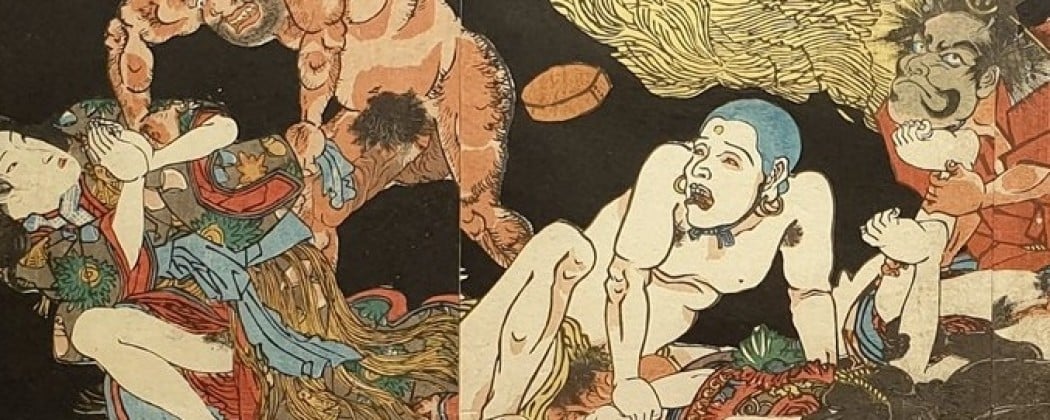 Spectacular Rape Design by the Specialist Utagawa Kunisada
It is known that Kunisada was the absolute master of the "rape" subgenre. He was so well-known for creating designs on this subject that he even had the special pseudonym Bukiyo Matahei. A connoisseur from that era would instantly recognize this pen name.
The following fold-out design from the series 'Iro nikki ' issued in 1829 is a wonderful example of Kunisada's mastery.
Lookout
The first scene takes us to a forest setting in which we view three culprits sitting on the lookout from a mountain top looking for possible victims.
Notable Villains
When the pages are expanded we are now entering a highly darkened space divided over four panels. The three men from the first scene are now joined by two more culprits who assist them molesting the three females. The five notable villains from very different backgrounds abuse the three helpless women who were participating in a night procession.
Filthy Grimace
On the far left, a nude, hairy and unshaven miscreant (the characteristic rapist in shunga) forces himself on a begging female victim. His filthy grimace reveals that he is having a good time.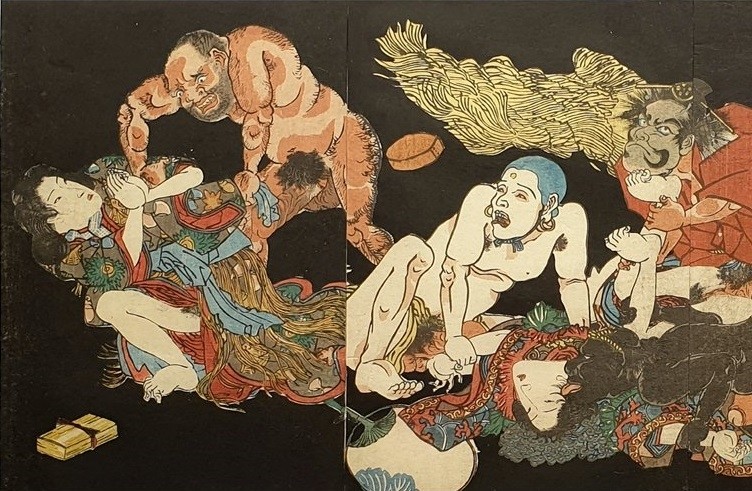 Giant Earrings
On the middle left panel an almost completely naked Buddhist priest with a shaved head and sporting giant earrings (his shakujō * lays in the below right corner), is trying to restrain another resisting female victim who is raped by a brown-faced man sporting a striking moustache (clearly the leader of the gang).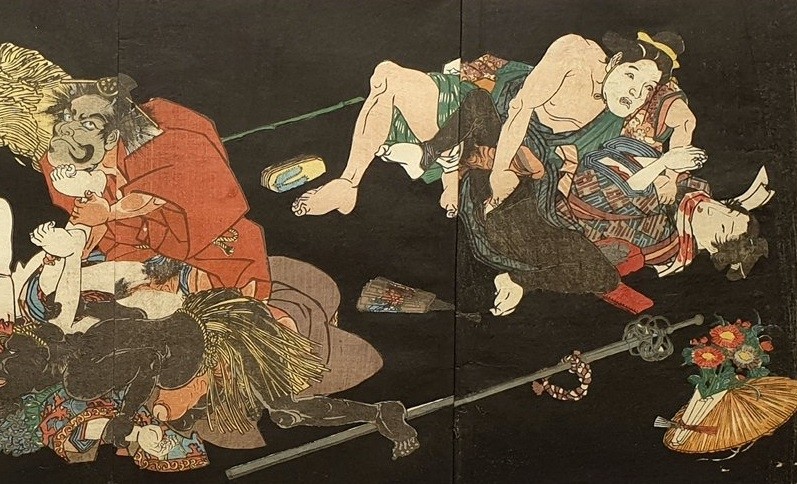 Negroid Offender
To make the scene even more remarkable, Kunisada has added a Negroid offender with a grass skirt who is licking the face of the desperate woman. On the far right, a masked man is sticking his hand through the fly of his victim's pants.
In the following video you can find many other rape designs…
Click HERE to check out another orgy rape design by Kunisada…!!
*shakujō is a Buddhist ringed staff used mainly during prayer or as a defensive weapon that comes from India. The tinkling of the staff's rings is used to alert small living beings such as insects to move from the pathway so that they are not trampled upon. In classical times, the jingling was also used to alarm hazardous animals, or to alert the devoted that there was an ascetic within earshot in need of alms.
In the past, some members have unsubscribed from our bulletin when we discussed these kind of topics. Do you also have problems with the more subversive topics, or are you open to this?