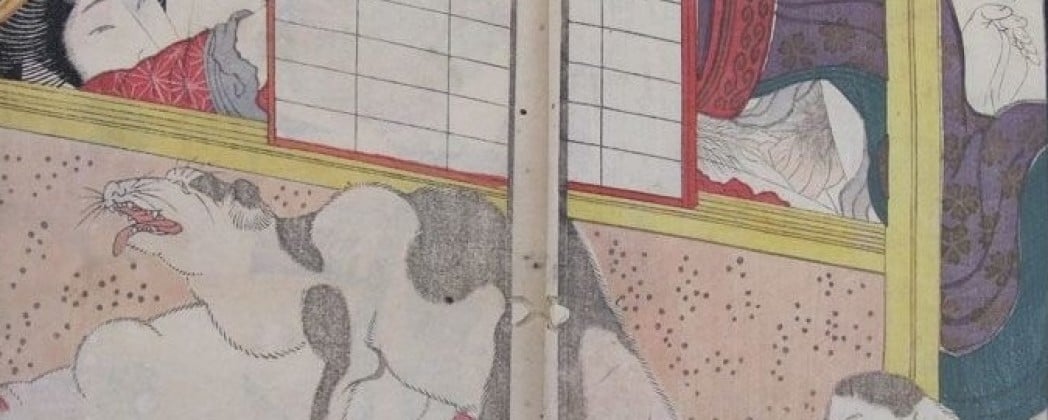 Yashima Gakutei or Hokusai? Who Designed These Amazing Shunga Books?
In the past the mesmerizing erotic book set called 'Kurawa no tanoshimi ' (c.1820s) has been attributed to several artists such as Hokusai's daughter Katsushika Ōi (c.1800-c.1866), Hokusai's talented son-in-law Yanagawa Shigenobu (1787-1832) and one of the most refined surimono * designers in the history of ukiyo-e and pupil of Hokusai, Yashima Gakutei ( 1786-1868) **.
Hokusai Himself
Personally, I think it is quite possible that this is a work by Hokusai himself (as there are many references to other of his prints) in which he experimented with certain designs. Also, stylistically, it bears all his characteristics (the "pointy" fingers and toes, the curved neck – Fig.26 and 27, the idiosyncratic Hokusai poses).
Fresh Colors
The designs have fine impressions, color and very good condition. Some tiny wormholes, minor browning and staining but overall in a very nice state with fresh colors. The books consist of no less than 23 double page color illustrations and 6 single color illustrations. Size of each book: 8 4/5″ x 6 1/5″ inches.
Lavishly Printed
The prints are lavishly printed including gold and silver pigments and embossing.
Anyhow, for the first time ever on the internet you can now admire the set in its entirety…
Click HERE for more articles on exciting complete shunga book sets….!!
*Surimono were privately commissioned prints, and often elaborately printed including embossing techniques…etc. They were issued at special occasions such as the New Year.
**Yashima Gakutei was a famous poet and ukiyo-e print designer. He studied under Totoya Hokkei (1780-1850) and was much influenced by Hokusai. Gakutei often employed the nom de plume Gogaku and left a number of skilled surimono and book illustrations, among which his impressionistic landscape scene are magnificent. Though a native of Edo, Gakutei lived in Osaka during the early 1830s.
What do you think about these kind of articles? Leave your reaction in the comment box below…!!