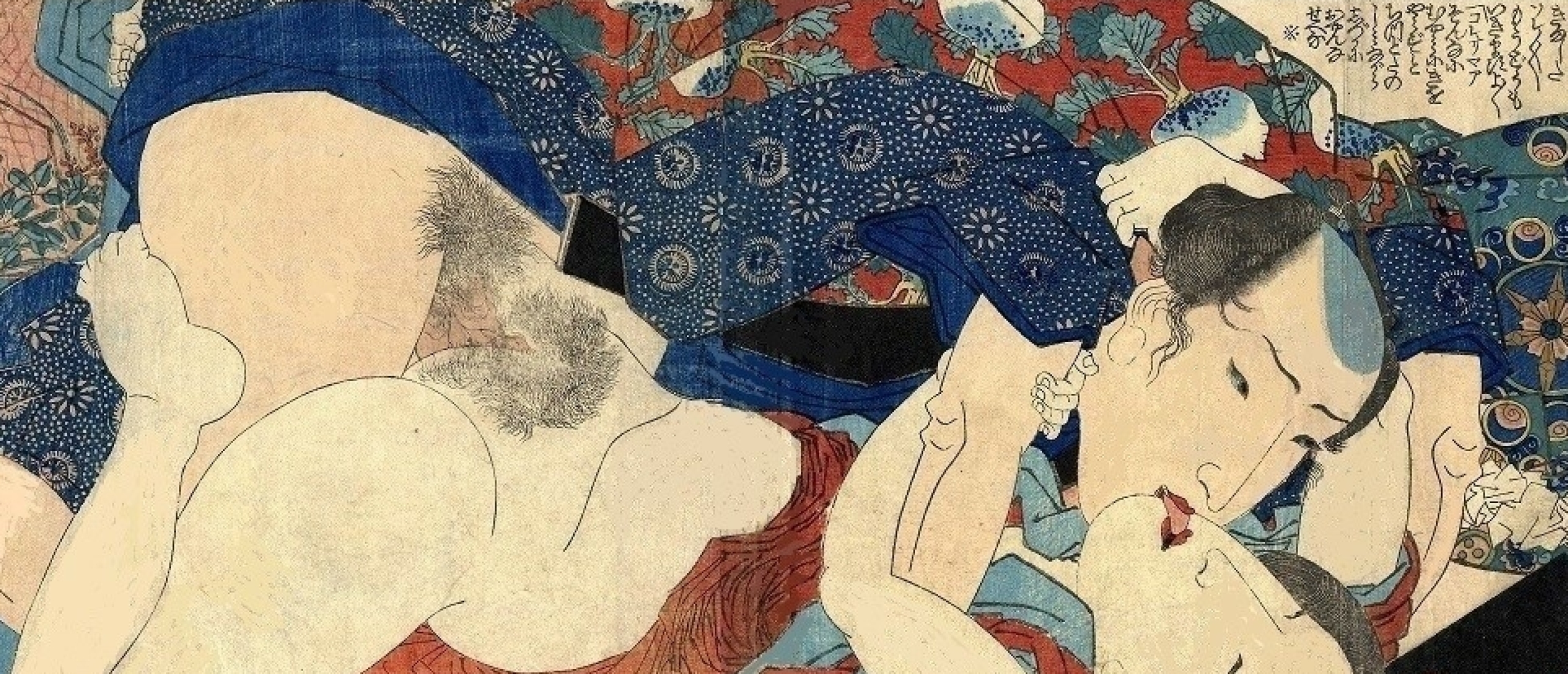 Magnificent Fold Out Scene by Hokusai's Son-In-Law
From the mid-1820s some erotic books also included 'trick pictures' (shikake-e), a newness that was not limited to extravagant titles. These trick pictures took two forms. The first consisted of small printed paper flaps pasted onto the printed page to represent doors, screens and the like that, when folded back, revealed what lay behind or within.
Handscroll
The second was fold-out pages that extend the image field horizontally so as to approximate the scale and proportions of the segment of a painted handscroll normally viewed at one time (Fig.1.).
Palpable
This scene shows an intense rendezvous of a geisha and her secret lover. The passionate female firmly embraces her lover and using her arms and legs. Even her mouth eagerly "embraces" his tongue. The couple almost fills the entire picture and Shigenobu succeeds in making their sensuality almost feel palpable.
Hokusai-style
Shigenobu was born in Edo, the child of Shiga Risai, in Tenmei (1787). Although his real name was Suzuki, he was commonly known as Jūbei. He excelled at drawing in the Hokusai-style, even before his education by the master himself.
Yanagawa-chō
Because he lived in Honjo Yanagawa-chō, he got the nickname 'Shigenobu of Yanagawa-chō', and therefore started signing his work Yanagawa Shigenobu. Ukiyo-e historians are pretty sure that he was introduced to Hokusai by the leading pupil Totoya Hokkei.
Plagued by Jealousy
The latter was highly impressed by Shigenobu's proficient illustration on the shōji* of a Honjo Benten barber shop. This illustration portrays a vagabond confronting a woman, who, plagued by jealousy, is in the midst of paying a ritual midnight visit to a shrine in order to cast a deadly spell upon her lover.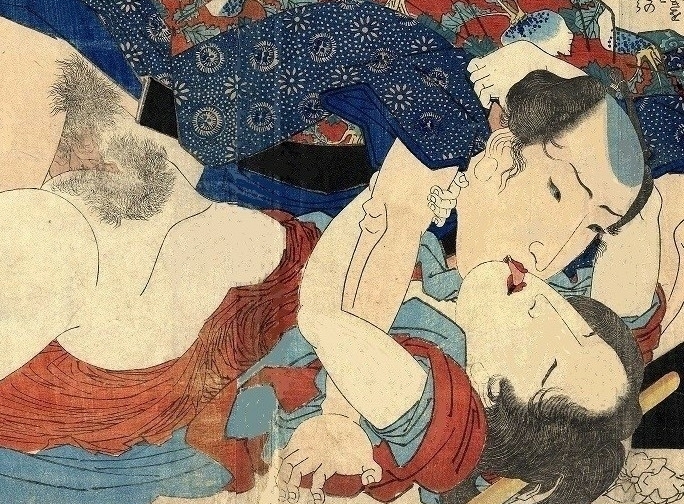 Expelled
It is known that the relationship between Shigenobu and his master was problematic. It even went so far that Shigenobu was eventually expelled as Hokusai's disciple. Afterwards, he is said to have attempted to earn his living drawing designs for ukiyo-e prints, but was prevented by Hokusai, who moved to block the publication of his works.
Fig.1c. Detail
Peacemaker
Finally, a mutual friend, the prominent author Ryūtei Tanehiko presented himself as the peacemaker and brought some kind of truce between them. Shigenobu later even married Hokusai's eldest daughter, and was granted the artist name Raito by Hokusai.
Click HERE and discover more exciting sensuality accrued from the aesthetic brain of Hokusai's son-in-law….!!
The above piece will be available for sale at short notice!
*Shōji are wooden sliding doors with luminous paper on.
Source:  'The Complete Ukiyo-e Shunga (Vol.4. – Willow Storm – Yanagi no Arashi – An Unusual Shunga Album by Hokusai's son-in-law Yanagawa Shigenobu' by Yoshikazu Hayashi