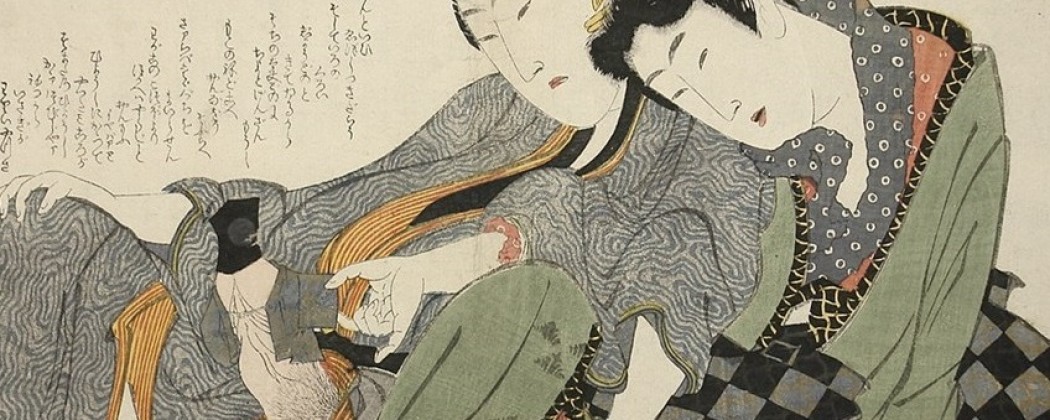 This Crazy Shunga Design By Hokusai Was Hammered Down For $8750,- At Christies
The 'Brocades of the East (Azuma nishiki)' commences with a brief preface featuring elegant calligraphy, summarizing the classical themes of sexual love – from the China of Yang Kuei-fei to Japan of Prince Narihara – and of their depiction in ukiyo-e from the shunga albums of Moronobu to the master of the present work, Hokusai (who is not, however, cited by name).
Skirt Chaser
The preface is signed with the facetious pseudonym Jokotei ("Skirt-chaser"), possibly identifiable with the minor novelist Jujitei Sankyu – or, with the young Keisai Eisen.
Richard Lane on the 'Sambaso Dancer' design:
"…Here suddenly, the mood changes to one of humour and preciousness, rather than of outright eroticism. The young woman – presumably a courtesan of some education in the arts – has garbed her lover's phallus in the cap and robes of a Noh dancer, as though the upright organ were the protagonist of a festive, New Year's Sambaso performance. Japanese phallic-worship is apt. But just as we might (pun intended) term this "Noh Erotica," by the same token, there is – despite the man's commencement of foreplay – very little truly erotic about the scene. It is simply a clever parody, and nothing more…"
Seated Lovers
Compositionally, the scene resembles a plethora of non-shunga views of "Seated Lovers" – which were one of the staples of Floating-world art from the age of Moronobu and even before. As such, it may be said to lend a new approach to a standard, overworked theme of ukiyo-e.
This design is featured on p.128 (Fig.20) in 'Japanese Erotic Art, the Hidden World of Shunga' by Shagan Ofer and on p.29/30 in 'The Complete Ukiyo-e Shunga (Vol.7)' by Richard Lane.
We offer the 'Sambaso Dancer' piece at Euro 3750,- at this time. You can check it out in our Hokusai section! This is the most coveted design from the series. In 2011 at a Christies auction in New York a similar design was hammered down for $8750,-
Sense of Humor
In the following scene from the series 'The Fashionable Game of Colorful Shells (Fūryū irokai awase)' (c.1711), the ancient master Nishikawa Sukenobu (1671-1750) displays his marvelous sense of humor.
Penis With Walking Stick
To add a bit of fun to their love-making a couple has decided to dress up the man's penis in a doll's kimono. He also has inserted a tobacco pipe down one of the kimono's sleeves as if the penis were carrying a walking stick.
Source: 'The Complete Ukiyo-e Shunga (Vol.7)' by Richard Lane
Click HERE for another masterpiece from Hokusai's Brocades of the East….!!!
*Thanks to Darya