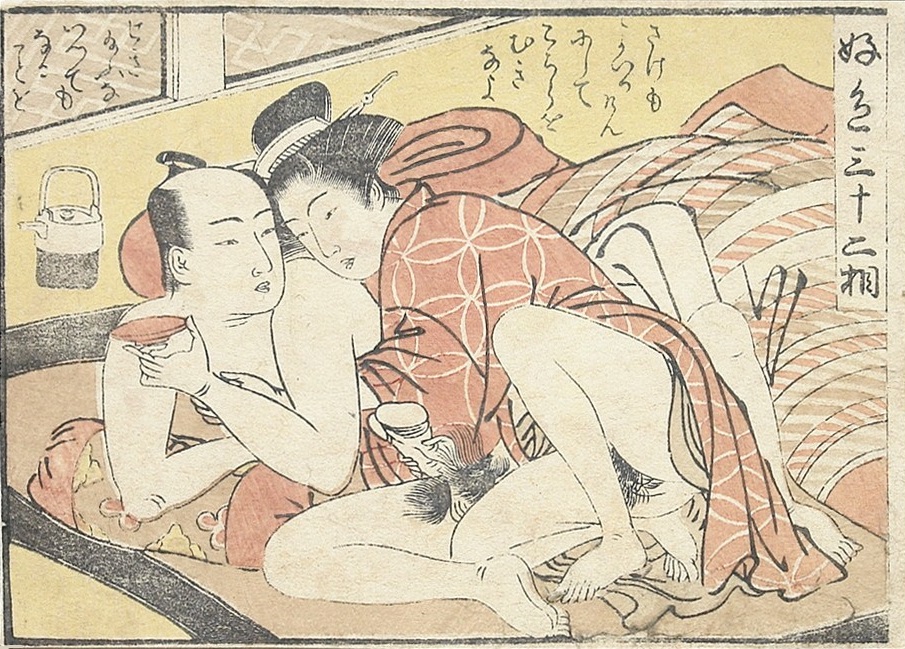 Koryusai's Sensual Erotic World In Koban Shunga (P1)
Probably the most undervalued ukiyo-e master and most prolific artist of his time, Isoda Koryusai (1735-1790) excelled in hashira-e (pillar print) and shunga. As expected, in the beginning his work was very reminiscent to that of his mentor Suzuki Harunobu (1724-1770) but after the death of the latter Koryusai developed his own style.
More Realistic
This is especially evident in his depiction of the female figure. They differed from the fragile figures by Harunobu, becoming more mature and robust and dressed in to the most gorgeous and latest fashions. Koryusai's figures are also more realistic than those of his teacher and friend. He also preferred strong, vivid colors. Orange was his favorite.
The following Koryusai shunga are the koban (small-sized) format and were issued in the early 1770s…
Intermezzo
During the intermezzo of their intimate encounter, a man is drinking his sake while his female partner encourages him impatiently for another bout.
A woman is pleasuring her male partner by stroking his penis.
Windowsill
A woman is lying against the windowsill and wetting he fingers while her male lover is also preparing for intercourse
Pulling Up
A man is pulling up the kimono of his female lover to get better access for penetration.
During their love-making the male lover is stroking the woman's arm. Her face is turned away from us the onlooker.
Click HERE for Part 2 with more Koryusai shunga in the koban format!