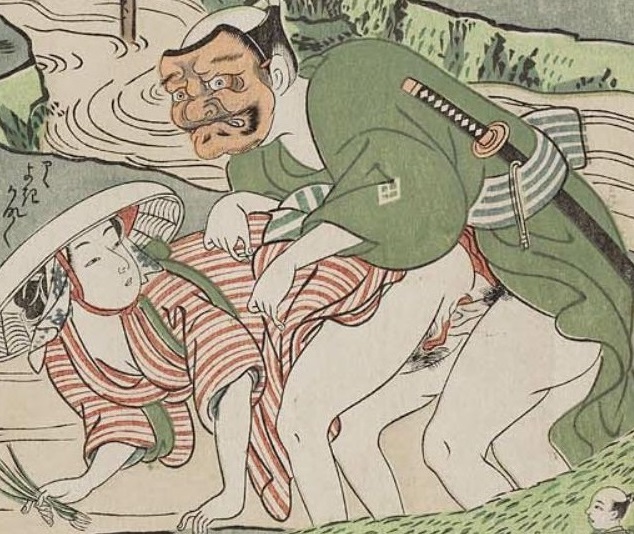 The Irresistible Offer of the Horny Rice God Inari
This is the sixth plate from Harunobu's extensive series 'The Fashionable Horny Maneemon' (1770). It was issued in two sets of twelve by the well-known publisher Nishimuraya Yohachi. For this shunga masterpiece Harunobu teamed up with the author Komatsuya Sanemon Hyakki (Komatsuken).
Shrunken Observer
The tableaux feature the adventures of Maneemon, the bewitched Edoite Ukiyonosuke who now goes through life as a shrunken observer of the sexual lives of ordinary people.
Rice God Inari
In the scene below Maneemon, sitting under a tree on the right, witnesses a remarkable encounter that takes place in the open-air. A startled girl is penetrated from behind by a masked stranger in front of her parents. The masked trickster claims to be a yogarasu, one who offers sexual pleasure to women, and a descendant of the rice god Inari.
One-Hundred Bags of Rice
He offers the parents one-hundred bags of rice on top of the normal yields in return for sex with their daughter. The farmer is enthusiastic about the offer and throws his wife into the deal as well.
Surprised
Maneemon is surprised, but pleased to be witness to this pastoral setting where a swindler is playing a joke on greedy country rubes.
Click HERE for more amusing adventures of the lusty Maneemon…!!
Sources:  'Japanese erotic prints: Shunga by Koryusai & Harunobu' by Inge Klompmakers
'Japanese Erotic Fantasies: Sexual Imagery of the Edo Period' by Chris Uhlenbeck