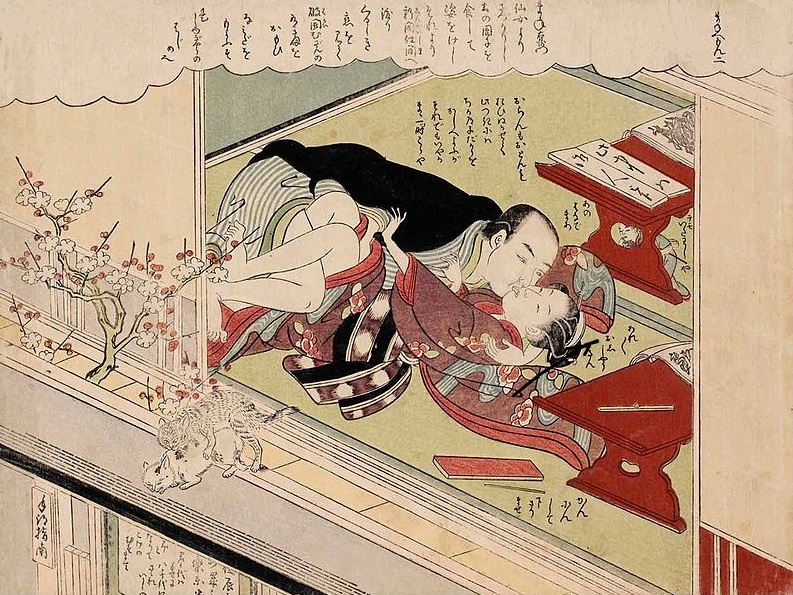 Young Female Student Experiences a Classical #MeToo Moment
On his journeys examining the secrets of the art of love-making, Maneemon first goes to the 'Islands of Virgins'. In this second plate of the series 'The Fashionable Horny Maneemon' we see for the first time the effect of the drink Osen and Ofuji gave Maneemon, that caused him to shrink to minuscule proportions.
Calligraphy Lesson
The sign hanging outside the ground-floor entrance and the materials lying on the table indicate that the young female has come from a calligraphy lesson.
#MeToo Moment
However, her lesson takes a very different turn when the teacher is trying to force himself upon her. She sports a robe with long, hanging sleeves signifying her unmarried status.
Dialogue
He whispers in her ear: "I'll pass you ahead of your fellow students Oran and Oton, and will teach you the methods of the next level. In that case, is it still disagreeable? Be patient for just a little while longer." She tries to push him away, responding "Oh dear! Teacher, please let go of me!"
Fuzukue
Maneemon is hidden behind a fuzukue (writing table) and observes them closely. He comments: "What a pitful, wretched thing. And look at his nose!"
Comical Touch
Harunobu included a comical touch to this design by including two copulating cats in the window opening. It is sometimes suggested that if even animals feel the urge to have sex when seeing humans making love, viewers should have no reservations about playing with themselves.
Atrocious Thing
The text above is critical of the teacher who is abusing his position, and says that to force a woman is an atrocious thing.
Click HERE and check out Maneemon watching a secret gay encounter…!!
Sources:  'Japanese erotic prints: Shunga by Koryusai & Harunobu' by Inge Klompmakers
'Japanese Erotic Fantasies: Sexual Imagery of the Edo Period' by Chris Uhlenbeck