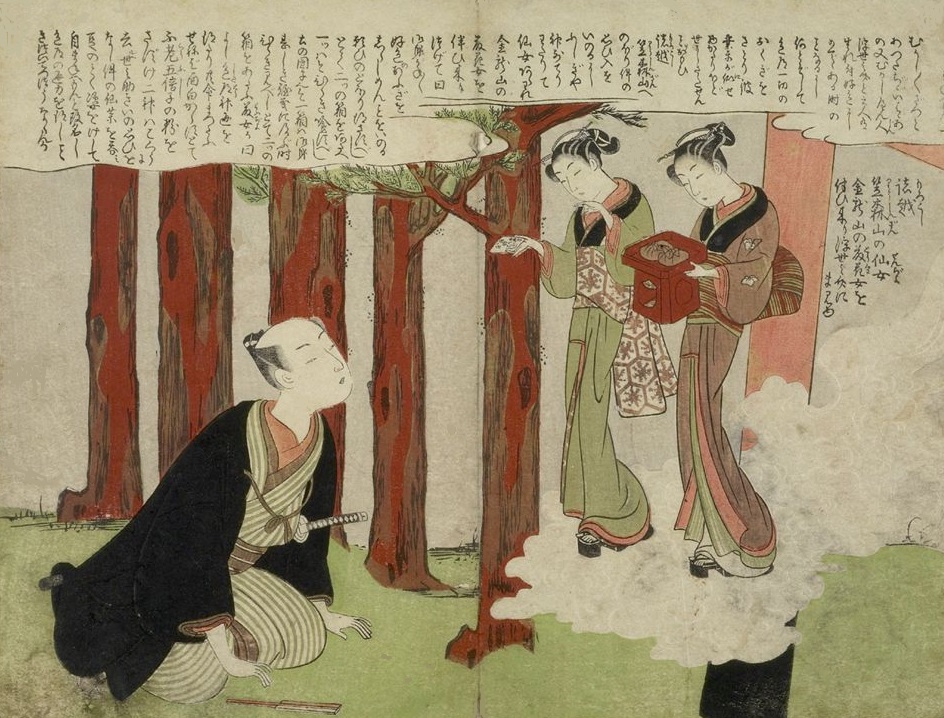 Who Were the Favorite Beauties of Suzuki Harunobu?
This the first plate of Harunobu's famous The Lusty Maneemon series (c.1768) introducing the character Maneemon who plays a central role in all 24 designs. Here he is seen in a kneeling pose, before his transformation, while two beauties standing on a white cloud descend from heaven floating in front of him.
Magic Brew
The ladies are about to persuade him to drink a magic brew. And when he does, he immediately shrinks to miniature size. The two females are the well-known beauties of their time, Osen and Ofuji, that were two of Harunobu's cherished subjects.
Saleslady
According to the accompanying text in the print, the scene of action is the Kasamori Inari Shrine near Ueno in Edo. Osen was a waitress in the Kagaya teahouse,  that was located in that area, and is depicted on the right holding a tray in her hand, referring to her profession. The woman on the left is Ofuji, who worked as a saleslady in a tooth-cleaning supplies' shop. The text on the envelope she is holding in her hands reads Yanagi-ya, which is the nam of the shop.
Harunobu Himself
Because of his affection for the two women, it is sometimes suggested that the kneeling man was Harunobu himself and therefore Maneemon was in fact Harunobu. Blind- printing (karazuri) was used on the white cloud and the black robe of the man.
Click HERE for more entertaining articles on Harunobu…!!!
Source: 'Japanese Erotic Prints: Shunga by Harunobu & Koryusai' by Inge Klompmakers