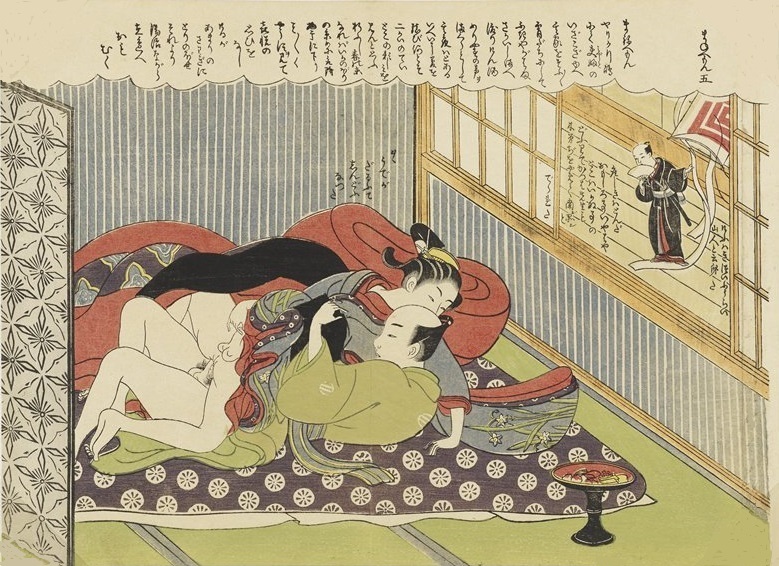 The Horny Maneemon Spying On a Homosexual Couple and Angry Pregnant Woman (P1)
A superb gay shunga scene from Harunobu's 'Elegant Horny Maneemon' series. Maneemon (aka. 'Imitation man') is a character that appears in all twenty-four designs (two sets of twelve) of the series. He spies on intimate couples and sometimes emulates them in his own characteristically humorous and affecting way.
The above panel features homosexual love (nanshoku) with a young boy sitting backwards on top of his client, while masturbating. Young boys were popular in the sex business and members of the upper classes, like the shogun and daimyo, had amorous encounters with them.
'Male' Flower
The young boy's clothing in this print is decorated with a typical 'male' flower: the iris, symbolic of the fifth month. Iris leaves are often associated with the blade of a sword, and the shape of the flower and its association with masculinity also imbues the iris with a phallic connotation. The futon is decorated with a stylised chrysanthemum, a typical symbol of homosexual love in shunga featuring gay scenes, because of its supposed resemblance to an anus.
Horny Maneemon
Maneemon looks down on the couple from the window. He is wearing a sword and holds a small folding fan in his right hand. It is interesting to note how Maneemon has entered the room: he flew in on a kite, which he still holds in his left hand. He comments 'Good heavens, the method of having male sex involves some elaborate armwork.'
Fighting Couple
In the previous panel of the album Maneemon is portrayed while he witnesses a fighting couple (see Part 2 of this article sequence). The text in the cloud-shaped border relates how Maneemon reached the brothel's second floor and where is off to next:
"Because of the fighting couple at Yarikurishima [ The name 'Yarikurishima' sounds like an island but can also mean 'makeshift room'], Maneemon left hastily in the early hours of the morning, and crossed over to Fukiyagahama, Sakaishima. Against the background sounds of the exchange of sake cups and the voice of a meriyasu [Kabuki songs conveying a character's moods or thoughts] singer he drifted away in dreams.
In part 2 we'll take a closer look at the homoerotic culture of ancient Japan and learn more about the story of Maneemon's previous adventure and the quarrelling couple.
Click HERE for an introduction to the erotic art of Suzuki Harunobu!
Source: 'Japanese Erotic Prints, Shunga by Harunobu & Koryusai' by Inge Klompmakers