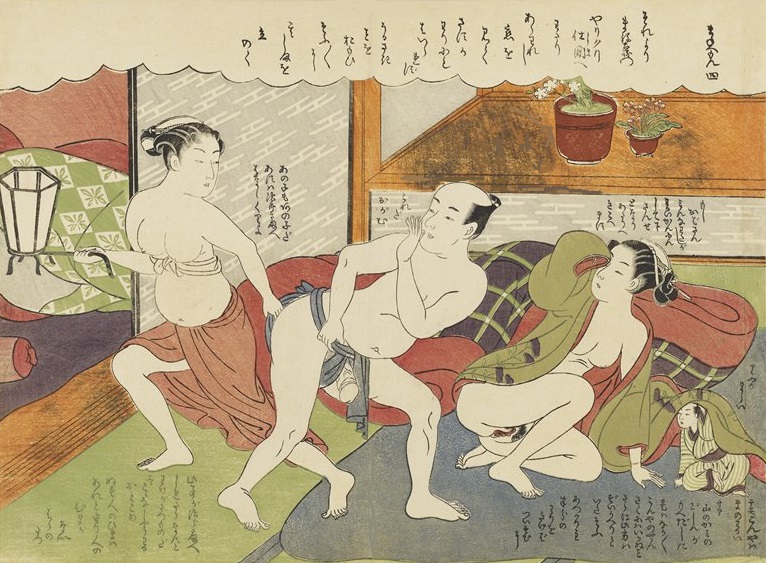 The Horny Maneemon Spying On a Homosexual Couple and Angry Pregnant Woman (P2)
In part 1 we accompanied Maneemon on his erotic adventure in which he spied on a homoerotic couple. In this article we'll dig a bit deeper and explore the homosexual culture of Japan at that time. At the end we'll have a look at a previous experience (panel) in which Maneemon encounters an adulturous male, his young mistress and angry pregnant wife.
Brothel Quarter
The spoken text in the image contains references to the well-known author Hiraga Gennai by stating his pen names 'Furai sanjin' and 'Kappa sensei': "Well, today the spirited Furai sanjin is here" and "No wonder Master Kappa deserted the Kiso Road and appeared in Shinagawa." Here, the text mentions Nanpin, a reference to Shinagawa's unlicensed brothel quarter. The first character is 'south', and is used as a contradiction to the Yoshiwara, which is often referred to as the 'northern district.'
The second character is shina, taken from Shinagawa. The Kiso Road was the inland highway between Edo and Kyoto, in contrast to the famous Tokaido, the highway connecting these two towns that ran along the eastern coastline.
Homosexual Guide
Gennai, known for his homosexual preferences, wrote the only homosexual guide about Edo under the pen-name Kappa Sanjin, the 'Kiku no sono (The chrysanthemum garden)', also known as Edo nanshoku saiken (Guide to Edo nanshoku', first published in 1764 and reprinted in 1768).
The abovementioned Shinagawa district was one of the areas where male brothels could be found. Gennai published another homosexual brothel guide in 1768, which covered the three main cities of Edo, Kyoto and Osaka. Considering the close friendship between Gennai and Harunobu, it is clear that Harunobu is sharing a joke with his friend here.
Sleepy Eyes
The following image (Fig.2.) is the previous panel of the 'Furyu enshoku Maneemon'-series. It portrays a pregnant woman who grasps her husband by his loincloth in the middle of the night. She is trying to pull him back from his young mistress who is rubbing her sleepy eyes. The woman holds a candlestick with a bonbori teshoku (hexagonal paper shade).
The couple's bedroom is probably the area to the left of the image, where cushions and blankets can be seen strewn on the ground.
Maneemon hides from the angry wife under the young girl's clothing. Despite having had a romantic encounter with the husband, the young girl, their niece, remained in the house to assist during childbirth.
Click HERE for more info on the important artist and shunga pioneer Suzuki Harunobu!
Source: 'Japanese Erotic Prints, Shunga by Harunobu & Koryusai' by Inge Klompmakers