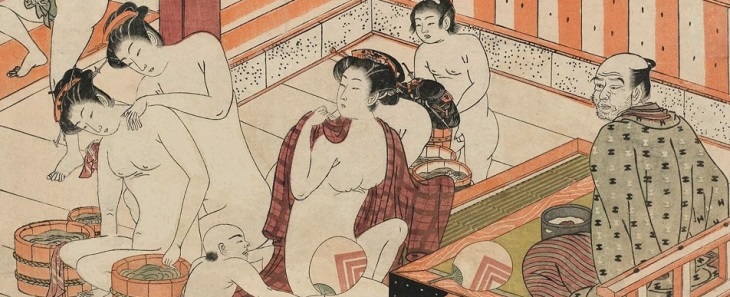 Censored and Uncensored Impressions of Famous Bathhouse Scene
This the final image of the 'Twelve Bouts on the Way of Sensuality (Shikido torikumi juniban)'-series, published c.1775-77 and designed by Isoda Koryusai (1735-1790). After the large bodies and equally enormous genitals of the preceding designs in the set are replaced here by smaller figures.
Massage
A group of nine men and women are relaxing in a bathhouse. Young and old have gathered here and while one woman washes herself, another one enjoys a massage from a male masseur. There is a heightened sense of latent sexual tension.
Bathhouse Owner
The boy in the foreground points at the erected penis of the young man sitting next to the old man. The latter surveys the scene – could it be that he is the bathhouse owner?
Censored
In this censored version (later edition, not designed by Koryusai) the genitals of the mature protagonists are not visible. The young boy who pointed to the male's penis in the uncensored design is now holding a fan concealing the female's vagina.
Erection
The woman who can be partly seen in the background drying her private parts with a towel now completely covers this area. The male masseur in the uncensored version has been replaced by a female one and the young male with the erection has now completely vanished.
Zooming In
The 'Twelve Bouts on the Way of Sensuality'-series is an extremely important oban (bigger sized) series. It had a tremendous impact on the nature of shunga composition of the genitalia and the 'zooming in' on the subjects.
Sumo Jargon
Koryusai starts the set with a virtuous (and signed) salon scene depicting three men and three women reclining. From the next to the penultimate in the sequence, Koryusai brings forward his protagonists. The word torikumi in the title is taken from sumo jargon and refers to traditional wrestling holds.
Click HERE for another amusing article with more enthralling bathhouse scenes!
A recommended article on Koryusai about a shocking rape design featuring a falconer can be found HERE !