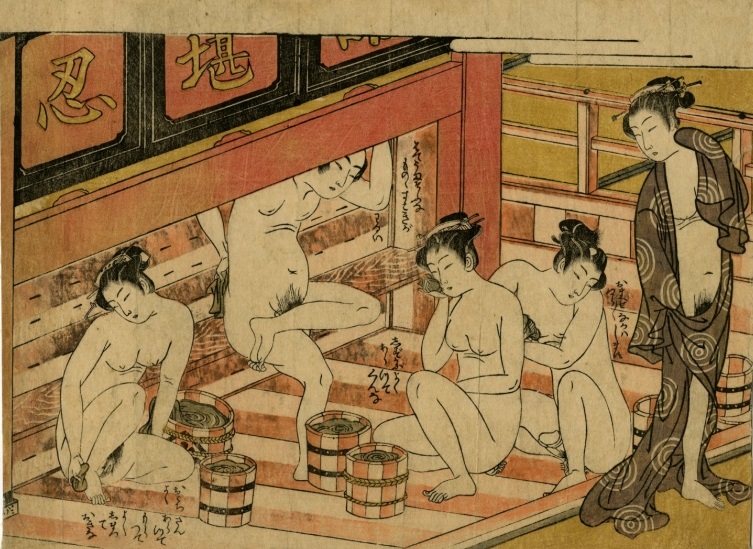 Bathhouse Gossip: What Is the Seductive Girl in the Centre Saying to the Boy Behind Her?
A print showing five people in a scene full of sensuality. The attention of the viewer is drawn to the seated girl in the centre, Ohachi, and the young man sensually massaging her back. They are observed with impudent gazes by the older man and the woman, dressed in a light cotton robe, who is about to leave the room.
Scrub Me Good
The adolescent rubbing Ohachi's back entices her and says: 'Your back is really smooth and wet.' Ohachi replies: 'Scrub me good and slow.' Meanwhile the man watching them is thinking:  'See…their relationship is rather suspicious …it seems that the beautiful one is trying to seduce him.'
Attractive Body
At a slight distance, seemingly self-absorbed, another girl continues to wash herself and thinks: 'Miss Ohachi is being washed well and she takes good care of her attractive body.'
Utamaro and Kiyonaga
This composition was used as a model for a triptych by Kitagawa Utamaro and also Torii Kiyonaga (1752-1815) was slightly inspired by the design in his well-known diptych of c.1788:
Click HERE for other exciting content with Japanese beauties in the bathhouse…!!!
Source: 'Secret Images – Picasso and the Japanese Erotic Print' published by The Museu Picasso de Barcelona