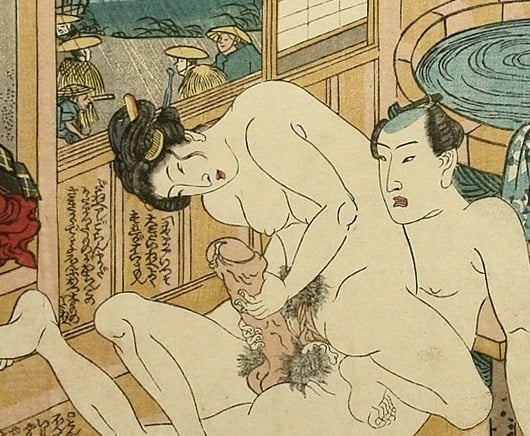 Amusing Bathhouse "Porn" Scene With Soaped Penis and Soaked Travellers
In correspondence to the stormy and rainy weather that has plagued our country (the Netherlands) for weeks now, I was inspired to turn the spotlight briefly on this entertaining scene. A married couple is enjoying themselves in a bathhouse. The female is soaping the erect penis of her spouse (the bag of soap lying beside them) while sitting on his lap.
Contrast
Their amusement is in subtle contrast with the soaked travelers who stand outside in the rain and can be seen through the open window. These designs are from a series called 'Tabimakura Gojusantsugi'  (c.1848) designed by Koikawa Shozan, that all point to a specific station of Hiroshige's "Tokaido Road"-series.
Tsuchiyuma-juku
I am not 100% sure which station this design refers to but it could very well be Tsuchiyama-juku (the 49th Station), which is located in the modern-day city of Kōka, in Shiga Prefecture, Japan. Because of this series Shozan is crowned the prime topographer of sex.
One of our members (Darya) suggested that the following scene from the same series could be connected to the above bathhouse encounter…
Click HERE for several articles that feature many sensual bathhouse secrets…!!!
Or click HERE for a striking scene from this series featuring a gay encounter…!!