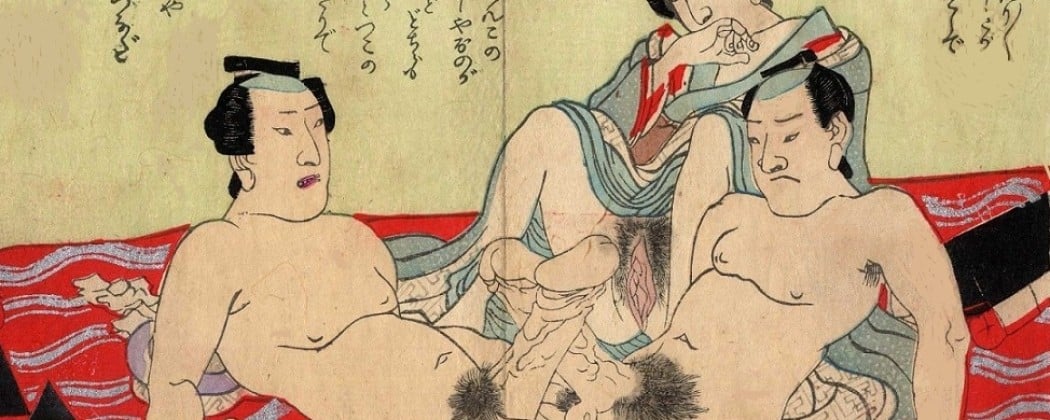 Crazy Shunga Design With Penis Wrestling Match Near the Tokaido Road
Koikawa Shozan (1831-1907) is also nicknamed the topographer of shunga because of his integration of topographic elements (often the Tokaido Road) in his erotic designs. An example of this can be found in the comical design below…
Penis Wrestling Match
In this humorous image we watch two males competing in a "penis wrestling match". They are both very motivated because the winner gets access to the insatiable woman who is waiting eagerly. They are surrounded by crumpled tissues so this is not their first match.
Daimyo's Procession
In the background we see one of the stations (could very well be the Sakawa River near Odawara) of the Tokaido Road with a Daimyo's procession crossing a river with a rather turbulent flow. The river cuts through two villages.
Tokaido Road
The Tokaido Road, best known for Hiroshige's excellent portrayal, was a disjointed and meandering route. It snaked up and down mountain passes, crossed rivers when bridges were missing, bordered the sea and forded unfriendly, swampy land. The road was travelled by all classes, including half-yearly journeys made by mighty Daimyo and their following of sometimes 20,000 men.
Click HERE for another shunga by Shozan featuring another intimate (gay) encounter at the Tokaido Road !
Another impression of the above print is depicted on p.138 (Fig.20) in Japanese Erotic Art, the Hidden World of Shunga by Ofer Shagan
The gay theme is among the most popular ones within shunga. What is your favorite theme? Leave your reaction in the comment box below….!!