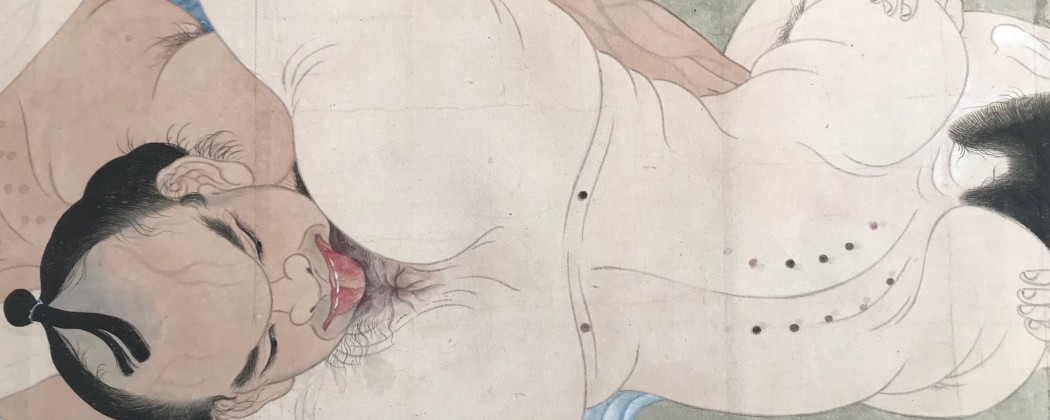 Utagawa Sadakage Made 5 of the Most Daringly Explicit Erotic Paintings
A pupil of Kunisada, Utagawa Sadakage (act.c.1818-1844) was a somewhat niche-oriented artist specialized in bijinga (female portraits). Stylistically his numerous bijinga occupied the middle ground between Keisai Eisen and Kunisada. Later in his career he went to Osaka.
No Holds Barred
Not many paintings by Sadakage are known and even fewer shunga works in any medium. Sadakage produced this 5 remarkable, giant-sized* paintings (originally from a scroll consisting of 6 paintings) around 1830. His "no holds barred" approach offers an admirable raw beauty, that is unique within Edo shunga production of that era.
Ghostly Beauty
The private areas are painted especially luxuriously with applied mica ** and gofun *** to the female bodies, giving it a powerful sensuality, even a ghostly beauty. Without exception, the male has taken the active role in these intimate exchanges.
Overwhelming
The actions of the protagonists and their bodies are depicted very realistically. Lifelike. This and the large size of the paintings make an overwhelming impression in real life.
Moxa Burns
This daring composition is the last in the handscroll, and it illustrates a man performing cunnilingus on a woman with moxa burns on her back. This rather explicit scene is signed by the artist: 'The six scenes to the right – drawn by Gokotei Sadakage'.
Glue-like
A Buddhist monk lifts up the kimono of his younger female partner and enters her while drawing out her vaginal fluids, which are rendered as a thin, glue-like substance. An amusing detail is the drool in the corner of the man's mouth.
Hanging Breast
A completely nude married couple in the "missionary" pose. They are passionately kissing while holding each other in a tender embrace. He cuddles through the hair. Like in figure 1, there is a reference to the use of moxa treatment (in this case the male). The artist's unashamed naturalistic ambition can be found in a detail such as the woman's hanging breast.
Delighted Spouse
An attentive male lover divides his attention over three body parts of his delighted spouse. He performs oral sex while at the same time plays with one of nipples and holds her hand.
Ohaguro
A young, though experienced, male suitor making love to a widow. She rests her head on a geisha pillow (takamakura) and eagerly bites her black teeth (ohaguro) into a tissue while he penetrates her and suckles one of her nipples.
Provenance
The paintings have an interesting provenance history. Before Bertholet, it was in possession of (this was before 1983) Thanos Zintilis (1929). He was honorary Consul General of the Republic of Cyprus from 1975 to 1993 and is an important collector. His collection of Cypriot antiquities, is one of world's most important.
Click HERE for a very rare erotic scroll with "exotic" protagonists as portrayed by the eloquent Hosoda Eishi….!!
*each painting measures ca. 39 2/5″ x 15 1/8″ inches.
**Mica is a metallic powder that sometimes was added to colors to give a shimmering surface.
***Gofun is a white pigment made from the shells of oysters.