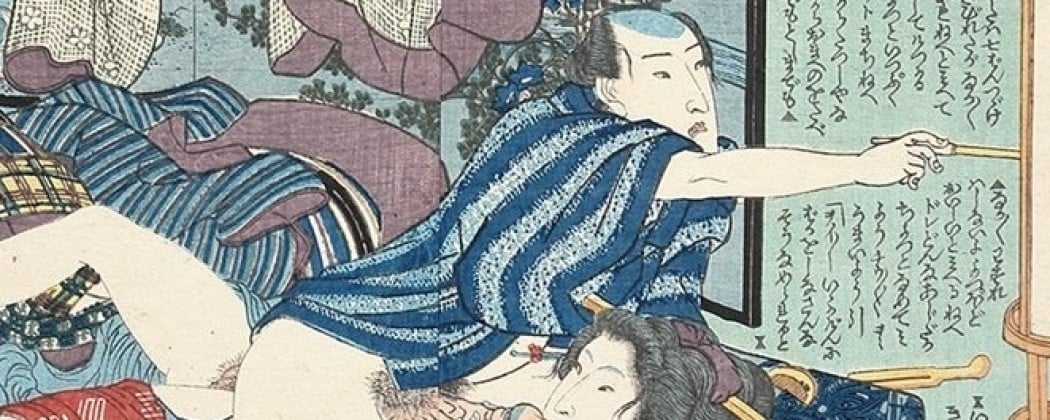 Why Is Oral Sex Seldomly Seen in the Art of Shunga?
Shunga art displaying oral sex with a female performing fellatio on a male or vice versa are relatively rare.
Oral Sex Art
The reason oral sex (fellatio) scenes appear rarely in shunga has to do with the portrayal of exaggerated male organs. In the Edo period a small mouth was considered an element of feminine beauty. A combination of the two was simply not doable, although artists did find ways around this to show oral stimulation as we can see in the rare examples below…
A completely naked male is leaning forwards while resting on his hands while the courtesan is performing fellatio on him.
A couple in a similar pose as the previous Kunisada design with the man lighting the lantern behind them and his female lover performing oral sex on him.
A rare Kuniyoshi design with the couple performing mutual oral sex in the sixty-nine pose.
An intimate couple focusing on each other's genitals.  The big gold-lacquered screen behind them portrays a spring scene with swallows and peonies. A nice detail is the foot of the woman directing the man's hand.
Below you can find two scenes depicting cunnilingus…
Click HERE for the most extensive article on shunga on the internet..!!!
Which one is your favorite of the above designs? Leave your feedback in the comment box below….!!