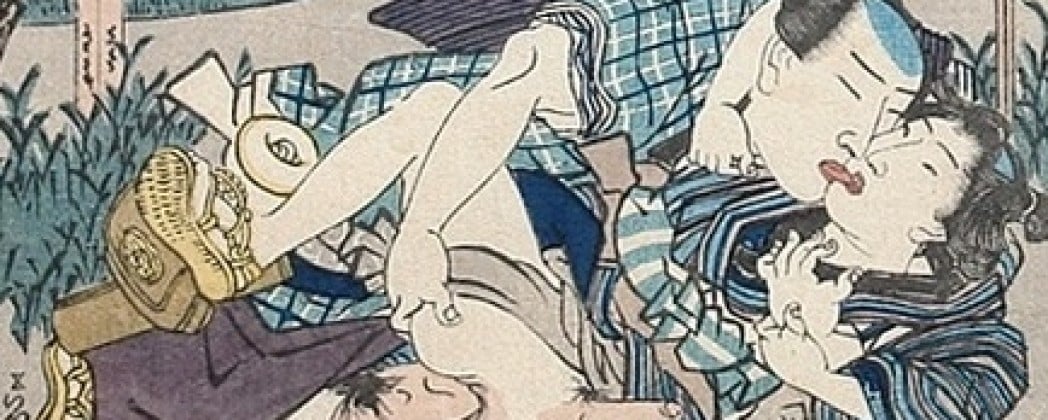 Koikawa Shozan, the Prime Topographer of Sex Inspired By Hiroshige
Koikawa Shozan (1821-1907) was a prolific artist* and was active in both the Edo period as the Meiji period. Although his shunga work relies heavily on that of his contemporaries, he created a lot of imaginative designs. He published numerous books in which he used various pen names and also made the illustrations for the stories.
Topographer of Sex
Ukiyo-e expert and author of the recommended 'Sex and the Floating World', Timon Screech, calls Shozan the prime topographer of sex. This because of his most splendid erotic work 'Travel Pillow for the Fifty-three Stations (Tabimakura Gojusantsugi) ' of the 1850s.
Tokaido
This work consists of 54 coloured designs, one for each station of the Tokaido plus a flyleaf. Each image portrays an Edo resident having sex with another traveller, a 'waitress', country girl or even two males (see image above).
Hiroshige
It's interesting to compare Shozan's designs with the famous 'Fifty-three Stations of the Tokaido'-series by Utagawa Hiroshige (1797-1858). For instance the image above features Fukuroi station and you can find Hiroshige's version here.
Sexual Desire
Shozan also produced a succinctly named Fifty-three Stations of the 'Tokaido (Tokaido gojusan-tsugi)', uniting the shogun's chief highway and the sexual desire.
Click HERE for more sensual art by this bold artist…!!
*Shozan was a shunga specialist and he produced around 130 shunga works (mainly books).