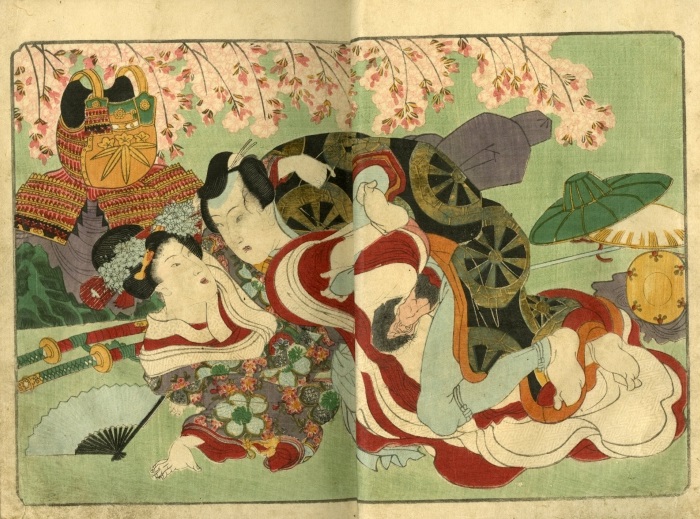 Utagawa Hiroshige's Sensual Rendition of the Magical White Fox
Utagawa Hiroshige (1797-1858) was the last major master of the ukiyo-e school. He was not the prodigious eccentric that Hokusai was, but nevertheless made a groundbreaking contribution to the development of the landscape print and to the field of flower-and-bird prints (kacho-e).
Hiroshige's Poetic View
In effect, Hiroshige reinforced the landscape form, and accommodated it to popular taste, thereby spreading out the form to all layers of society. He was a master of the impressionist, poetic view of nature and remains the best-loved of all Japanese artists.
Landscape and Kacho-e
Although Hiroshige rarely left his beloved landscape and kacho-e genre, he examined shunga at least once* in a book set called 'Setsugekka shiki no tomo (Friends of Moon, Snow and Flowers of the Four Seasons)'
Visual Translation
This scene is a visual translation of the fourth act 'Yoshinoyama, Mount Yoshino' from the kabuki play Yoshitsune senbonzakura (Yoshitsune and the Thousand Cherry Trees).
Magical White Fox
In the scene Minamoto (no) Yoshitsune (1159-89) asks his faithful follower Satō Tadanobu (who is actually a magical white fox) to escort his lover Shizuka Gozen through the mountains of Yoshino.
Farewell Present
Earlier Yoshitsune had given Shizuka Gozen a small hand drum as a farewell present (seen on the right) and Tadanobu a suit of valuable armor for his valour (seen to the left).
"Break-up"
En route Shizuka gets depressed over her "break-up" from Yoshitsune and beats the drum. Satō  'Fox' Tadan0bu sets aside his armor and they dance as if before Yoshitsune. As part of the dance, Tadanobu mimes the events of the Battle of Dannoura, where his own brother died.
Here are some other designs from the series:
Click HERE for a talented colleague of Hiroshige who produced shunga inspired by his "Tokaido" series..!!
*According to the authors of 'Japanese Erotic Fantasies: Sexual Imagery of the Edo Period' this book set is by Utagawa Hiroshige