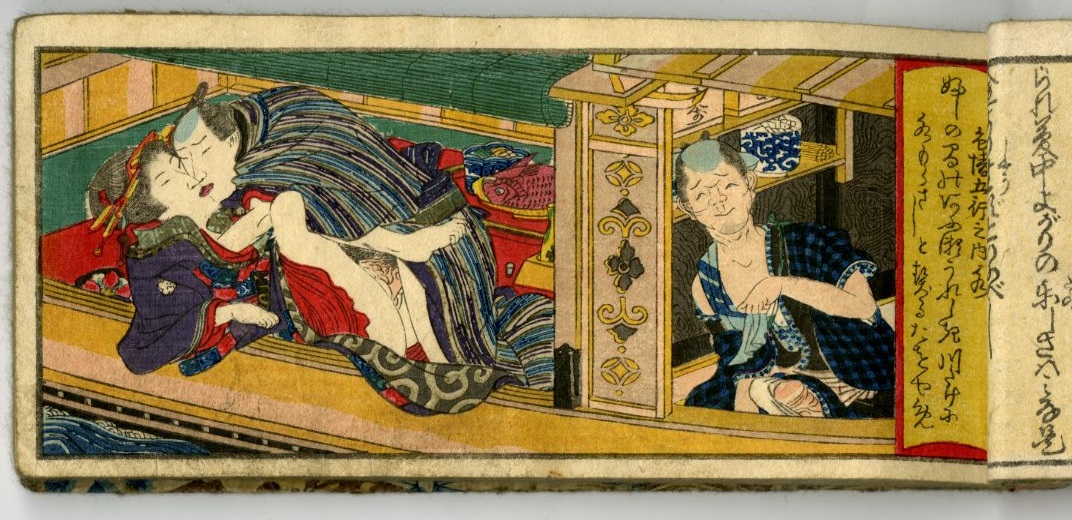 Two Uncommon Oblong-Sized Sleeve Shunga Booklets With 31 Exciting Images
A rare set of oblong sleeve shunga booklets attributed to Utagawa Kunimori (act. ca.1818-1843). The rabbit figures depicted on the book covers refer to the Year of the Rabbit (c.1843) according to the Chinese zodiac sign date.
Various Locations
The twelve color illustrated pages feature sensual couples on various locations. The books are printed with great care and detail such as excellent use of gold pigments.
Sleeve of the Kimono
The B&W illustrations feature some striking close-ups including sex toys. These kind of booklets were issued only in small editions. They were easy to carry around in the sleeve of the kimono.
The books also include some amusing B&W illustration of close-up genitalia, faces and sex toys…
Unfortunately the set has been sold already..!
Click HERE for another charming sleeve book set…!!
* Japanese morning glory (Ipomoea nil) are traditional garden plants that are fashionable in Japan
It would really help us if you could let us know what you think about this post or the content elsewhere on our blog in the comment box below..!!