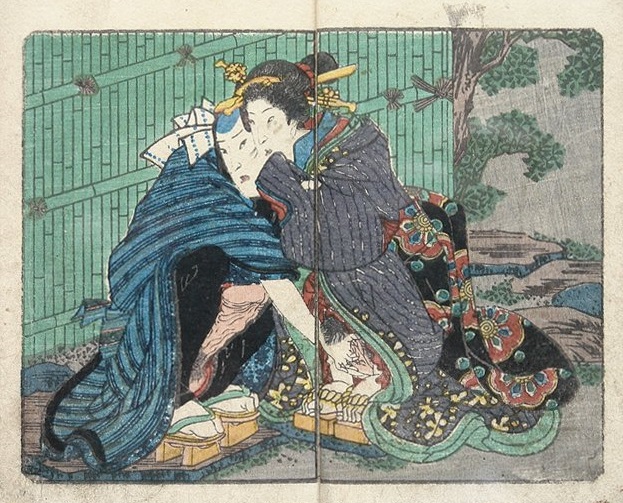 Charming Sleeve Shunga Book Set by Kunisada
These attractive miniature shunga book sets were published for those customers who wanted to enjoy them in private ("secretly") and could carry them in the sleeve of their kimono's.
Poem of Spring, Pine and Bamboo
This set is by the extraordinary ukiyo-e artist Utagawa Kunisada (1786-1865) entitled 'Shun-ei shochikubai (Poem of Spring, Pine and Bamboo)' and was published c.1840s. It includes eighteen finely-printed double page color illustrations with excellent use of metallic pigments and embossing techniques. Kunisada signed it under his pen name Kairo Doketsu.
Squatting Couple
The shunga book set features 18 double page color designs and 3 single page color designs. The majority of the scenes take place inside the house including fully naked couples or for example having intercourse in front of a big folding screen portaying Mount Fuji (Fig.4. and 6). But there's also a striking image with a squatting couple exposing their private parts, outside in the garden near a fence (Fig.3.). It also includes an unusual image of a male lover who is shaving the neck of his spouse while she is sitting in front of a mirror (Fig.7.).
Click HERE more sensual shunga art by Kunisada…!!!
If you are interested in purchasing this shunga book set, you can find it on the following PAGE…!!!