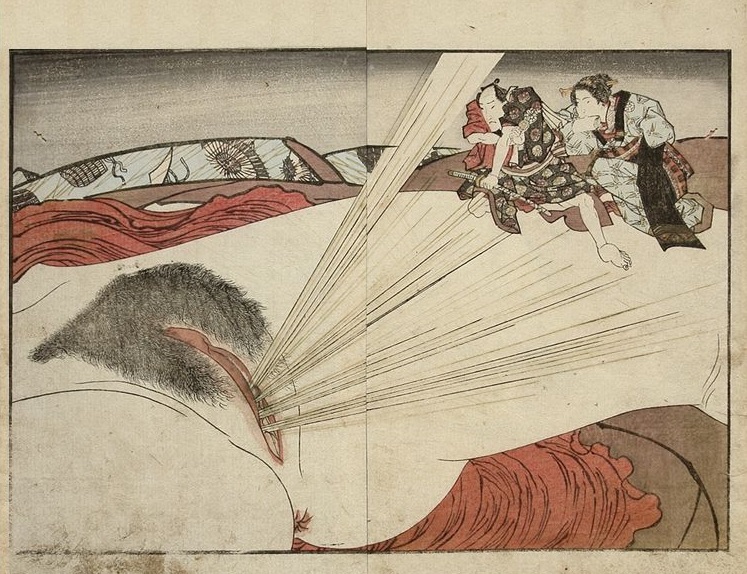 The Battle of the Sexes Design As Seen By Utagawa Kunisada
In this intriguing design we follow the adventures of the mythical figures Beanman and Beanwoman who at this climactic moment have reached the peak of "vaginal mountain."
Battle of the Sexes
The story is a satirical view of the 'Battle of the Sexes' by the author Jujitei Sanku. Little is known about this tale but it is save to say that the underlying theme treats the differences between the genders.
Monster Vagina
"…Even Beanman turns nasty, his world becoming a place of slash and burn in which he cannot progress by sentimental education but only by killing. In Kunisada's use of the homunculus in his New Tale of the Welling Waters (Sentõ shinwa) of 1827, Beanman must draw his sword to fight off a monster vagina that threatens to engulf him until, quelled, it surrenders to his bidding." (Timon Screech).
The size of the above print is 11″ x 8 2/3″ inches. It has a fine impression, very good color and is in a very good condition. Only some very slight soiling and two very tiny holes.
The design is depicted on p.250/51 (Ill.121) in 'Sex and the Floating World: Erotic Images in Japan 1700-1820' by T. Screech.
The other design from this series featuring Beanman and Beanwoman is the following:
If you are interested in obtaining this great piece or have any questions you can contact us HERE !
Click HERE for more Kunisada designs!
Who is your favorite ukiyo-e artist? Leave your reaction in the comment box below…!!