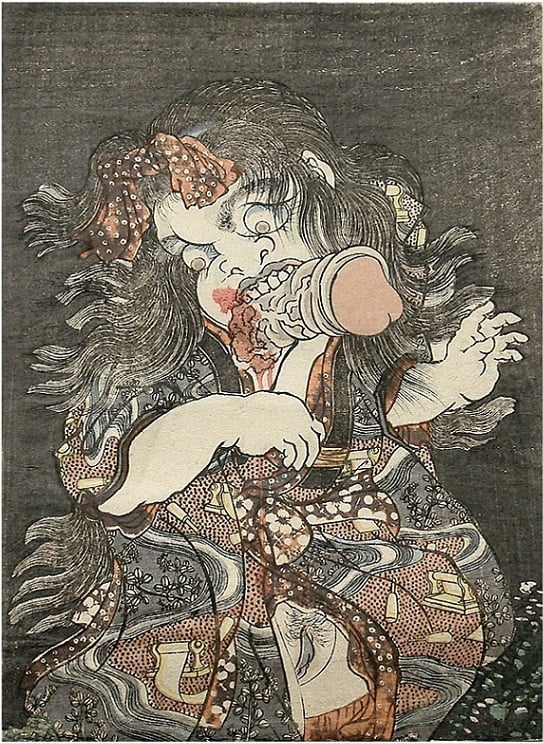 What Is Generally Considered to be the Most Gruesome Shunga?
We have (finally) obtained this great shunga print that is generally considered to be the most gruesome design within the genre. In this rather complex fold-out piece (shikake-e) from Kunisada's acclaimed 'Tales of Pussy'-series (c.1826), we witness a bizarre adaptation of the love-suicide tale of Chan and Choemon. In this adaptation the couple are returning from a long journey to Ise.
Love-suicide
At the time of their return they are humiliated by a gang of attractive youngsters. Ohan is forced to have sex with the youths in front of Choemon, culminating in her rape by the monk Dokyo with his huge phallus. Scared of what people might think, the two decide to commit love-suicide in the Katsuragawa River, but Choemon fails and is left alive.
Bitten Off
At first the picture shows Choemon clasping his hands in prayer before Ohan's drowned body that has washed up on the banks of the river. When the trick page is opened, however, the horrific scene is revealed of Ohan as a ghost who has bitten off Choemon's genitals and is flying off into the night's sky.
Omitted
Striking is that this scene is frequently omitted from the book series. This may indicate that this design was added later, sold separately and/or was censored at the time.
Click HERE and check out more amazing shunga art by Kunisada…!!!
Source: 'Shunga, Sex and Pleasure in Japanese Art' by the British Museum
Now that you have seen one of the most shocking designs in shunga I was wondering what do you think is the most shocking work of art (in shunga or in general)?
Share your thoughts in the comments below!