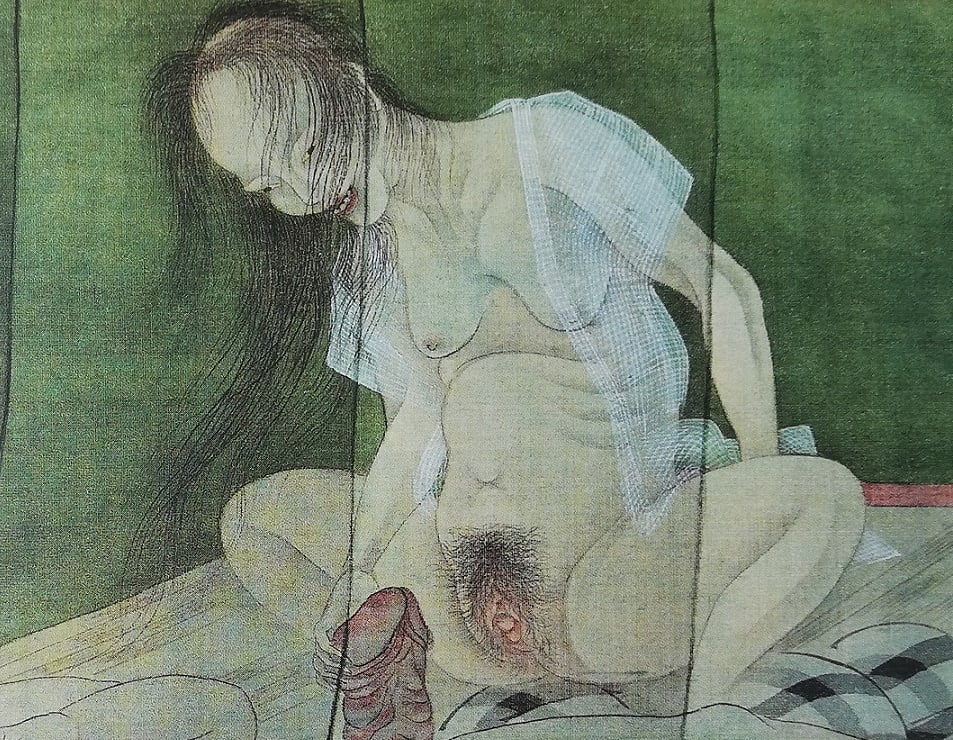 A Bewitching Depiction of the Strong Longing of a Sensual Ghost
During a humid summer night a man has taken off all his clothes while sleeping naked underneath a mosquito-net. Squatting next to him holding his erected member in her hand is the smirking appearance of a female ghost.
Thin Face
She wears just a transparent white jinbei* and her long tousled hair dances eerily in the breeze across her thin tormented face. The man seems to be contorting under the spell of a nightmare as he stretches one arm outside the net, as if to seek help.
Sensual Ghost
The sensual ghost's sense of longing is so strong that she has managed to enter the mosquito-net which should have formed a barrier between him and the spirit world.
Katsukawa Shun'ei
This work is part of a pair of hanging-scroll paintings featuring two scenes attributed to Katsukawa Shun'ei** (1762-1819). It was made available by the Danish collector Michael Fornitz and displayed at the major shunga exhibition held by the British Museum in 2013.
Click HERE for more articles with terrifying ghost tales and ghosts as depicted in shunga…!!
*jinbei is a piece of nightwear or home wear
**There are only a small number of erotic pieces known by the hand of Shun'ei. These are often bizarre and outlandish. In his erotic book Ominameshi (Maiden Flower) issued in 1789, for example, there is an image of copulating foxes and an eccentric scene of a fisherman making love to a stingray.
Source: 'Shunga – Sex and Pleasure in Japanese Art' published by the British Museum