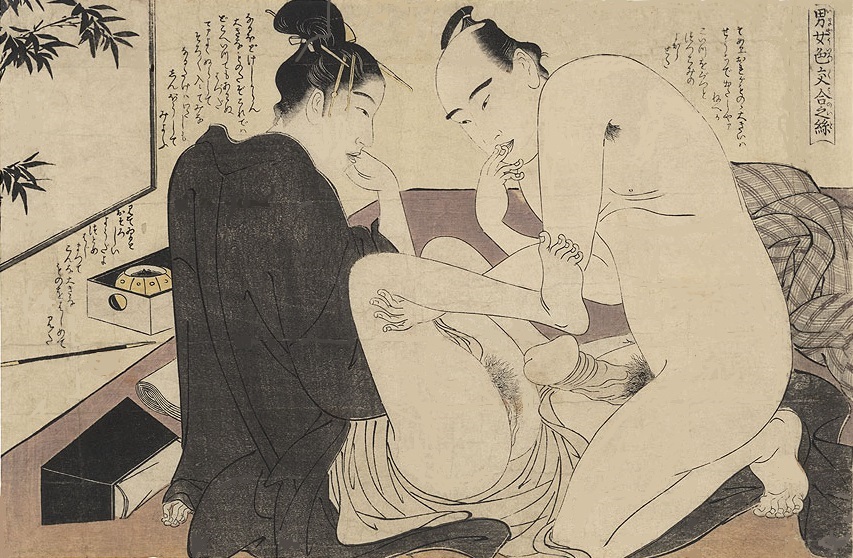 Katsukawa Shuncho, the Master of the 'Red Hating Prints' Called Benigirai-e
The Tokugawa regime issued an edict in 1790 forbidding the use of multiple colour blocks in woodblock prints. This barrier to full-colour printing forced artists to adapt, and they designed works with a muted palette that avoided the use of the safflower-red beni colorant.
Benigirai-e
These prints came to be known as benigirai-e ('red hating pictures'), and this series is unusual because it is a benigirai-e. That Shuncho and his publisher adopted benigirai-e to a genre that was already prohibited might be interpreted as jocular: while conforming to one edict concerning the use of beni, they openly neglected another banning shunga.
Moisten
A man brings his hand to his mouth to moisten his fingers, so as to aid the penetration of his partner. The man's body is printed with a colorant that tends toward oxidization and discoloration. (See Fig.1.)
Nude Male Figure
The allurement of this composition is found in the contrast of the diverse textile patterns. The clarity of the benigirai-e palette enhances the eloquent power of the design, in which the nude male figure contrasts lavisly with the black area in the background. (See Fig.2.)
Click HERE to discover more on Shuncho's erotic art!
Source: 'Japanese Erotic Fantasies, Sexual Imagery of the Edo Period' by Chris Uhlenbeck et al.