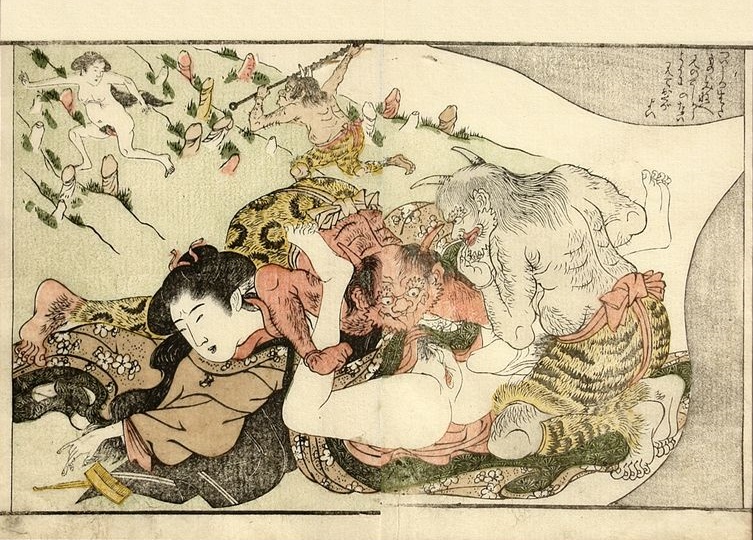 Striking Shikake-e By Katsukawa Shuncho Depicting Sleeping Maiden Making Love to Demons
An extra-ordinarily design from the series Ehon Takara bako (A Female Treasure) by Katsukawa Shuncho (act. c. 1780s-early 1800s).  It is an early shikake-e (trick picture) with consecutive images. The right plate features a sleeping maiden whose diabolical dream (left plate!) seems to be incited by an adolescent performing cunnilingus performed on her.
'Maiden Dreaming of Attack by Devils' (c.1800). From the series: 'Ehon Takara bako (A Female Treasure)' by Katsukawa Shuncho.
Gentle
As with a lot of ukiyo-e artists, there is no vivid account of Shuncho's life. He most probably had a quarrel with his teacher Shunsho (1725-1792) around 1784 and found shelter with the artist Kubo Shunman (1757-1820). Shuncho's style (like Kiyonaga) tends to be gentle, and in his shunga designs he conveys a sense that the women too are taking pleasure in the intimate rendezvous.
Seductiveness
Shuncho created images of female beauties in the manner of Kiyonaga and Utamaro, as he was fascinated by Kiyonaga's monumental and majestic figures and by the seductiveness of Utamaro's work. His chromatic range was quite limited, but rich in half tones, which had the effect of making even his most explicit prints look gentler and more refined.
The left piece (the one with the demons) is depicted on p.112 (Ill.159) in 'Strangers in Paradise: the Foreign Image in Japanese Art & Shunga' by R. Lane.