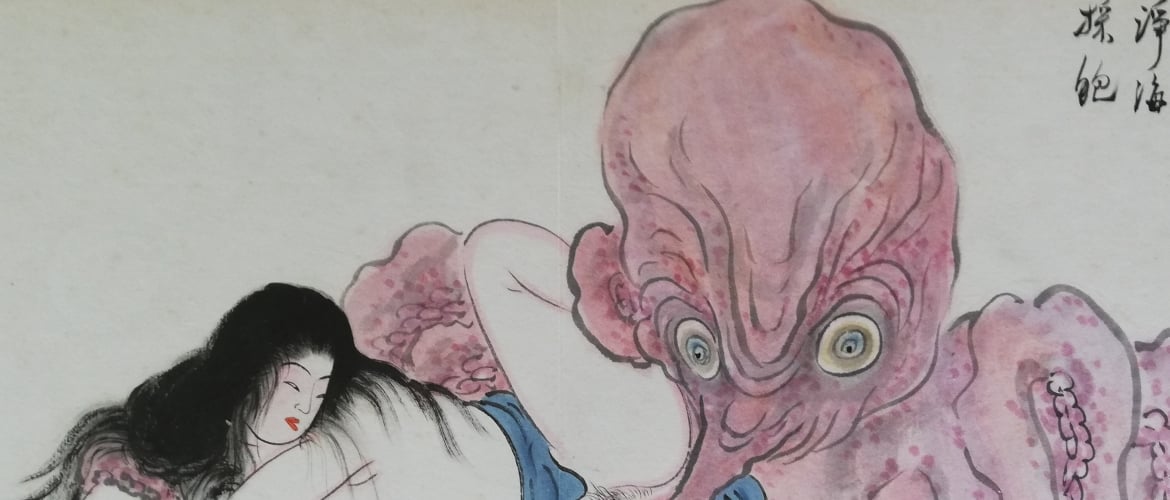 Shocked By Lusty Animals Performing Cunnilingus? Don't Click…!!
Let's take a closer look at a fascinating Taisho era (1912-1926) album we obtained recently that features a lot of animals performing cunnilingus. The contents of this accordion-folded album reminisces Kobayashi Eitaku's famous album 'Nikuhitsu shunga makimono' that I treated in an article two years ago.
Bestiality
No Taisho era artists who worked in shunga are known by name, but the talented artist of this "bestiality" work left a characteristic red "penetration" signature (Fig.1, 7, 12 and 14) that is also on other paintings from the same era we have in our collection.
Kawanabe Kyosai
So the artist produced more erotic work and is, besides Eitaku, also clearly inspired by the style and wit of Meiji genius Kawanabe Kyosai (1831-1889). The way how the elephant (Fig.4.) uses one of his tusks to make room for his trunk is a lovely example of this. Kyosai often also included such comical signatures in his paintings.
Eyes Closed
Remarkably, all the females in the scenes have their eyes closed and most of the animals perform anal sex, except for the fox and the cat...
Click HERE for another sensual piece by the same artist (compare the red signature!) featuring an electric fan (!)…!!
*Baku is a Japanese supernatural spirit that devours dreams and nightmares. Therefore it is also known as the 'dream eater'.