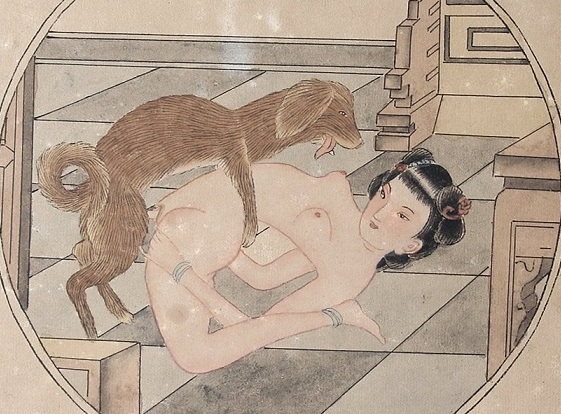 Rare Chinese Erotic Paintings With Bestiality Secrets
A special set of Chinese erotic paintings from the 1920s with portrayals of mainly females and their intimate encounters with animals. The circular frames give a voyeuristic impression. In Japanese shunga images of bestiality (sexual acts between animals and humans) is rather rare but it is a very rare occasion to come across this theme within ancient Chinese erotic paintings.
The below paintings are created by an unknown artist. The artists of Chinese erotic paintings are rarely known.
Ferdinand Bertholet
I have examined a lot of books on Chinese erotic art and also discussed the lack of this theme with the expert Ferdinand Bertholet*. He told me that he very seldomly ran into paintings including the bestiality theme. In his large collection he only has two examples of this, one featuring a gay encounter in which a dog plays a role and an unusually rude rape scene with a muzzled dog**.
Copulating Lovebirds
Sometimes copulating rabbits are depicted in Chinese erotic paintings to inspire the lovebirds. Also mandarin-ducks are shown as a symbol of marital fidelity. But the animals were mainly added as a humorous detail to spice up the scene. In literature one frequently speaks about Fox spirits (in Chinese húli jīng), women from the spirit world (Fig.2. and 7) who return to the earthly life to seduce men and take away their energy. Bertholet emphasizes that he only saw fox spirits in Japanese shunga prints and not in Chinese shunga.
Click HERE for more articles on Asian erotic paintings!
The above Chinese erotic paintings can be found in our gallery. You can find the prices HERE or HERE…!
*Ferdinand Bertholet is a collector of Asian art, author of numerous books on Chinese erotic art, restorer, artist, tutor and has the most important collection of Chinese erotic art in the world.
**Depicted on p.182 in 'Concubines and Courtesans' by Ferdinand Bertholet