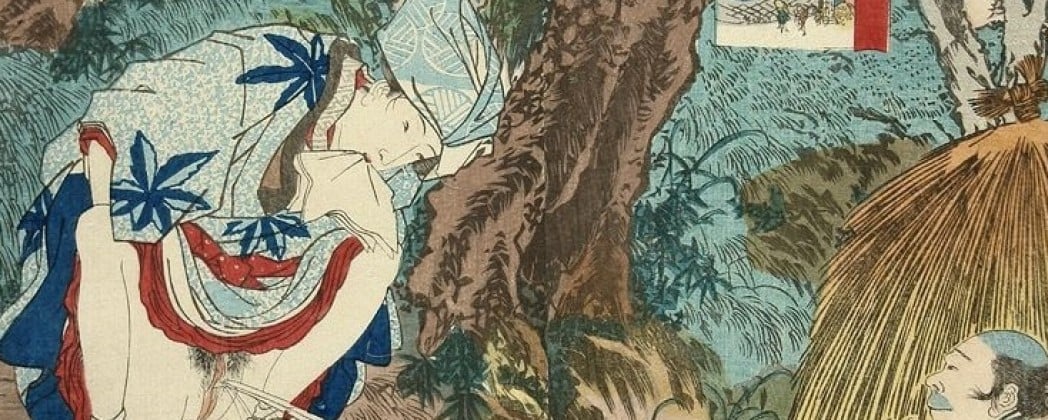 Secretly Peeking on Peeing Beauties By Aroused Males
Voyeurism within shunga was a beloved subject among many ukiyo-e artists. A sub-theme within voyeurism is that of aroused men peeking on peeing beauties. Although rare, there are some appealing examples like the ones described below.
Peeping Tom
A peeping Tom is peeping through a tiny hole in a bamboo fench while jerking off fiercely. He is looking at a peeing beauty squatting near a stream. Below you can find another impression of this design.
Peasant Girl
Erotic image of a peasant girl urinating in a stream. She is being peeped by a horny country lad who is sitting behind a stack of rice straw.
Animal Sex Show
In this rather bizarre image by Kuniyoshi we can see a woman who is being spied on, by a man in the other room, when she is using the toilet. In the background an excited crowd have gathered watching some kind of secret animal sex show. One of the male spectators sports a tattoo on his leg.
Subtle
Another scene with a peeing beauty in a toilet only this time we, the viewer, are the actual voyeurs. A subtle hint by the artist to his male audience. Like many of the other themes within shunga, Kunisada mastered all of them.
There's also a toy print (shikake-e) version of this design including a door that can be closed.
Not directly representing the theme of this article but this very rare (first time I ever came across this kind of theme in seventeen years) design makes, like in the previous design, us the voyeur. The same applies to this ancient erotic picture from the 1920s…
Sexual Organs
The reason for the popularity of this subject in shunga may simply be that it provides a convenient occasion and excuse for depicting the sexual organs exposed, but it is more likely that the intention was to show they have another function – and also, perhaps, to illustrate that we are all human, with no reason to be ashamed of such things.
In our Premium section you can find more secretive shunga designs with peeing females. You can try our 28-day RISK-FREE trial (you'll be informed three days before the trial ends!) on the following page.