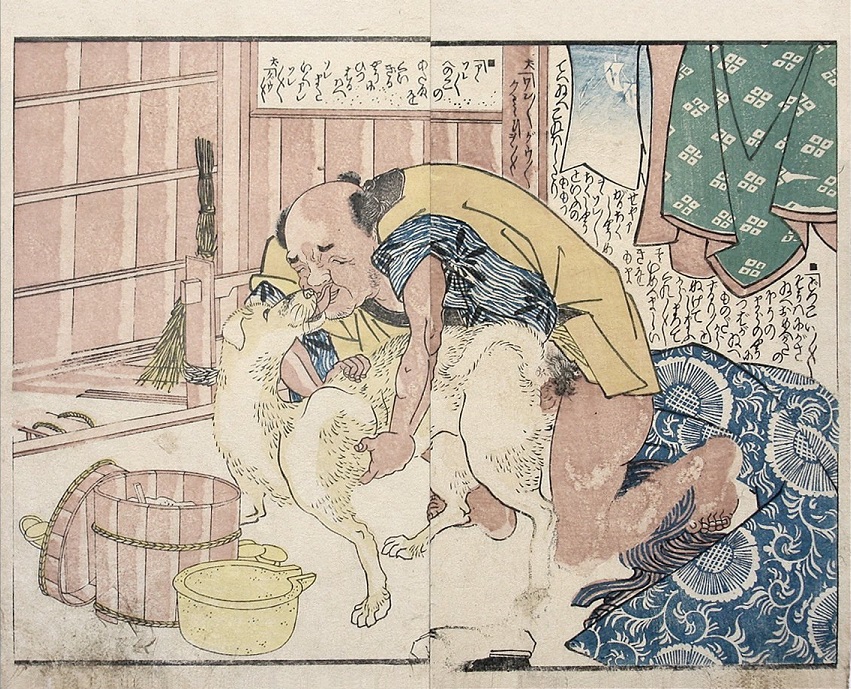 The Surprising Secret of A Bored Dog Lover By Utagawa Kuniyoshi
A lot of shunga books consist of a story depicted by a number of images whose connection may not be immediately obvious without reading the text. Yet, in certain cases the narrative progression is apparent visually.
Utagawa Kuniyoshi
Like in today's highly amusing two-piece sequential design by Utagawa Kuniyoshi (1797-1861) from the series 'Hiyaku mon futari furisode', published around 1827.
Humorous
Successive print designs that are linked together like this are called shikake-e (Trick picture). Of all the genres within ukiyo-e this …technique was most applied in shunga because of its humorous nature.
Ecstatic
The first plate depicts a very bored middle-aged man having sex with his ecstatic wife. In the second plate the man has undergone a complete metamorphosis and is happy and excited while making love to his beloved dog.
Sexual Pleasure
While the woman experiences sexual pleasure (Fig.2), her male partner experiences nothing. His face and posture speak volumes.
Laundry-room
In an abandoned laundry-room, the man we remember from the previous scene, is enjoying himself with his favorite pet who licks his face enthusiastically (Fig.3.).
The series features another striking scene involving a dog and most probably the same man who display their intimate activities in front of an excited crowd in a public toilet (Fig.4.).
These scenes are a perfect example that Kuniyoshi, together with Kawanabe Kyosai (1831-1889), can be considered as one the greatest comic geniuses of the shunga genre.
Also depicted on p.402 (Fig.6 a and b) in 'Japanese Erotic Art, the Hidden World of Shunga' by Ofer Shagan.
Scenes of bestiality in shunga are rare but not uncommon. Click HERE for examples treated in other articles!
More information on the art of Kuniyoshi can be found on KuniyoshiProject.com