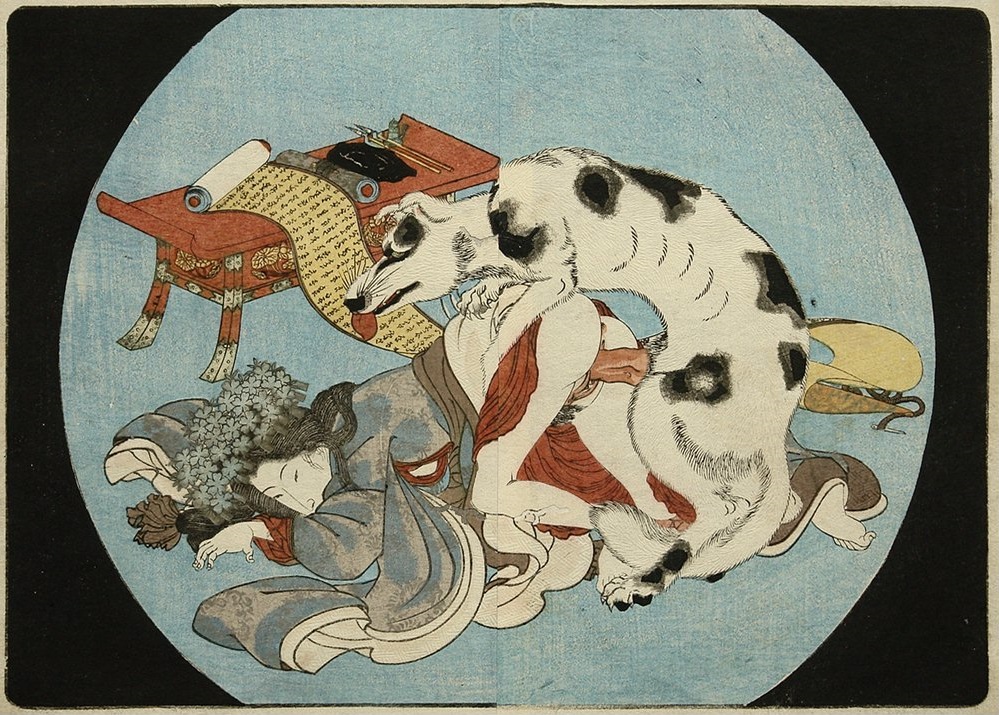 Who Is This Girl Making Love to the Canine Hero Yatsufusa?
Scenes in shunga with people (male or female) making love to a dog are rare but not unusual. The images discussed below, that use this theme, are from the series Koi no yatsu Fuji. It is a clever erotic parody on the Japanese epic bestseller Satomi Hakkenden-den (The Legend of the Eight Dog Heroes), which was Kyokutei Bakin's most famous work, published between 1813 and 1842.
Spy
Fusehine is having sex with the canine hero Yatsufusa. A small desk with writing materials and scrolls can be seen behind them on the left. The compelling image portrays a circular frame exhibiting the sight of a "spy" seen through a telescope.
Coitus
Asian art historian Timon Screech remarks: "…Bakin's story included a moment when Satomi Yoshizane looked down from Mt Toyama and saw his daughter (Fig.1.), Princess Fuse (whose name literally means 'lying down') is engaged in coitus with a dog – justified by Bakin's title, although he had not written about real canines but about men with the character 'dog' in their names."
Cave on Mount Fuji
The text in this print (Fig.2.) explains that General Satomi Yoshizane is looking through his spy-glass towards a cave on Mount Fuji. In the Eight Dog Heroes tale, Satomi Yoshizane is the Lord of Awa and the father of Princess Fuse (Fusehine).
Family Dog
In a complicated chain of events Fusehine marries the brave family dog Yatsufusa and eventually gives birth to a litter of eight pups, each of whom bears the character of inu, or 'dog', in their names. We can see what Yoshizane sees in his spy-glass in Figure 1.
In an earlier event the dog hero Yatsufusa forces himself upon princess Fusehine (Fig.3.).
The following video features shunga designs including animals:
Click HERE to discover a superb visual translation of the Dog Hero theme inspired on Kunisada's masterpiece!