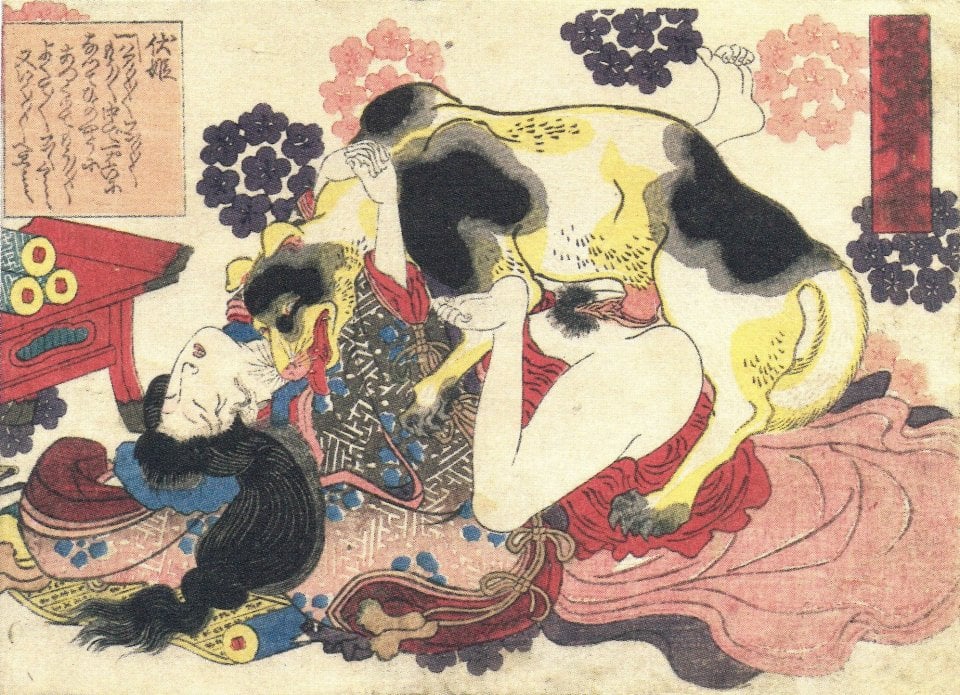 The Famous Nanso Satomi Hakkenden, a Dog Story
The young woman in this koban-sized shunga design is Princess Fusehime who is making love to the canine hero Yastufusa. They are characters from the Japanese literary classic 'The Eight Dogs Chronicles (Nanso Satomi Hakkenden)' which was written by the famous but troubled author Kyokutai Bakin (1767-1848). It can be summarized as a historical novel of the strange and supernatural set in a time of medieval war with eight central figures (each with 'dog' in their name).
Water Margin
Bakin wrote his magnum opus over a period of 28 years (1814-1842) and was intended to be the Japanese counterpart of the Chinese classic 'Water Margin', a story about the adventures of mercenary troop consisting 108 outlaws (aka. Suikoden Heroes).
Strong Female
When Bakin finally finished his 'Nanso Satomi Hakkenden' in 1842, it spanned 106 volumes featuring 400 characters, making it one of the most comprehensive books in the world. The story includes a number of strong female characters, perhaps the most important being the bold Fusehime, who is associated with each of the eight heroes.
Androgyny
On many occasions, 'Nanso Satomi Hakkenden' hints at androgyny, which was a popular late-Edo theme. Fusehime, for instance, is described as being manlike, and by spreading her seedlike soul beads, she becomes the virtual mother-father of the eight heroes. Yatsufusa, who marries Fusehime, is a male dog possessed by a female soul.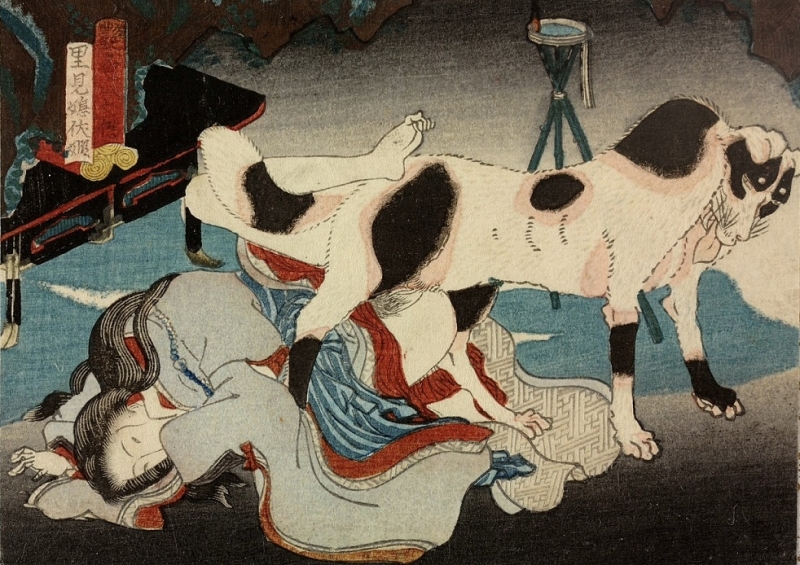 Fig.2.  Fellowship of the dog Yatsufusa and Fusehime (c.1830) from the series Hana no Shiratsuyu by Utagawa school (Source: Tuyashun)
Fig.2a.
Click HERE for more intimate encounters between Fusehime and Yatsufusa…!!!
A comprehensive description of the 'Nanso Satomi Hakkenden' tale can be found at woodblockprints.org…!!!