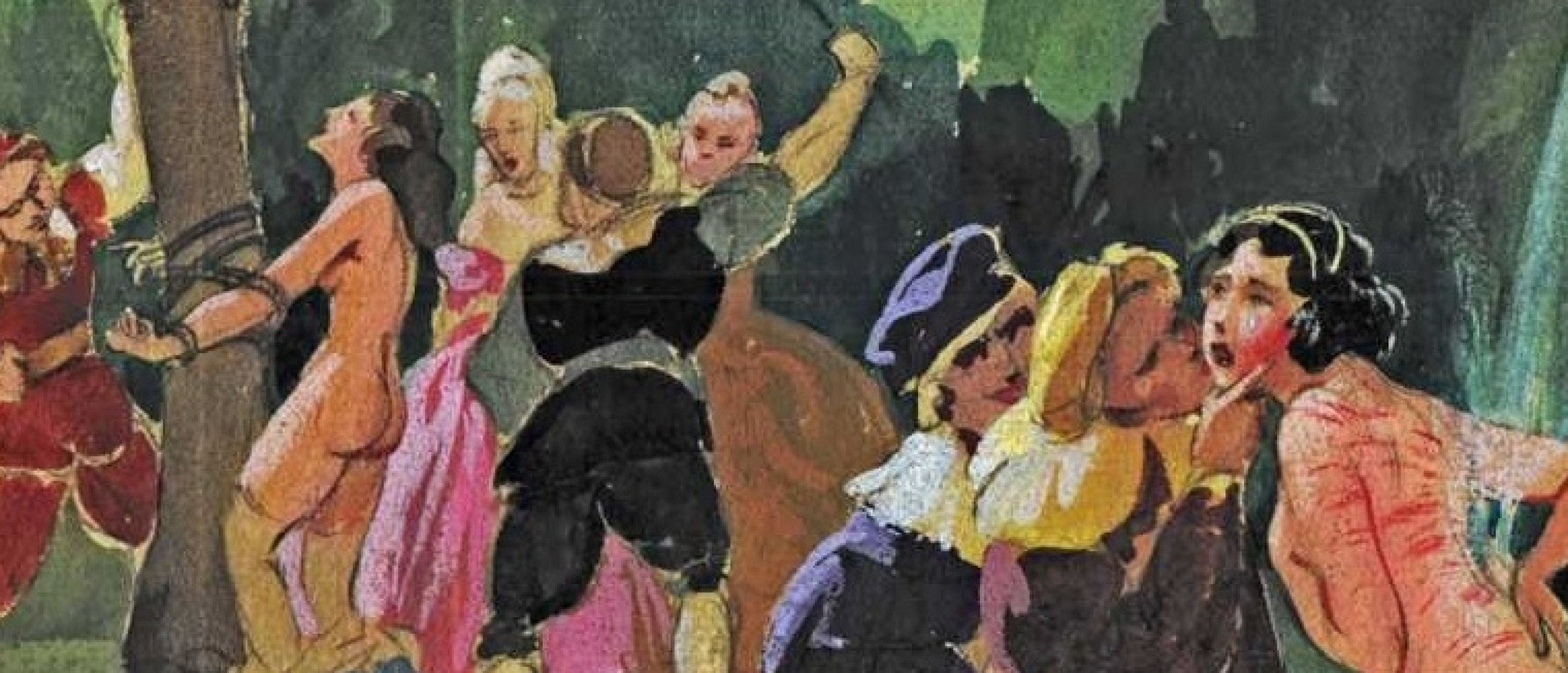 Aroldo Bonzagni's Controversial Secret Erotic Album
The story behind the controversial work L'Album Segreto (The Secret Album, 1910) of the Italian painter and illustrator Aroldo Bonzagni (1887–1918) bares some similarities to L'oeuvre secrète (The Secret Work, 1982) of the French cartoonist Albert Dubout (1905-1976) we discussed earlier. Both contain provocative content and were published after the artist's death.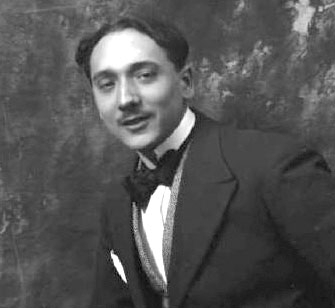 Fig.1. Aroldo Bonzagni
Young Artists
Bonzagni was born in Cento in 1887. Bonzagni settled in Milan at the beginning of the twentieth century. Aroldo studied at the Brero Academy under Tallone. During his studies, he interacted extensively with young artists such as Umberto Boccioni and Carlo Carrà Style.
Caricatural style
At the beginning of his career, Aroldo Bonzagni painted in an expressionist style. After painting futuristically for some time, he developed a somewhat caricatural style around 1910. His numerous drawings were influenced by the work of Henri de Toulouse-Lautrec, Jean-Louis Forain and Theophile-Alexandre Steinlen, and above all by the style of the Munich and Vienna Secessions, known in Italy through the Venice Biennales of the early 1900s. From 1910 to 1911 he devoted himself to the decoration of a villa in San Donnino of Nizzola, near Modena. In 1912 he exhibited in Milan in the exhibition of painting and sculpture, then he exhibited at the Venice Biennale.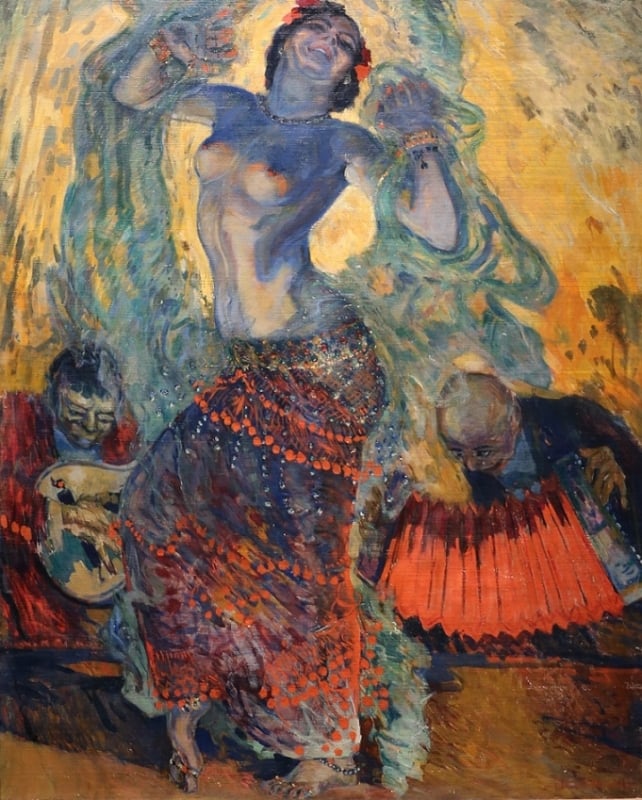 Fig.2.   La danzatrice   moti del ventre, (1912)
Morbid Humor
The refined draftsman used tragedy and morbid humor as a weapon in a visual language, capturing the elegant beau monde. In addition to the rich, he also depicted the poor. During World War I, Bonzagni used the image of the beggar to express human suffering, and also dedicated himself to patriotic support illustrations. He died of Spanish flu in Milan in 1918, a short time before his first major solo exhibition was to begin.
Under the Cloak
On the sidelines of his work as a painter and cartoonist, he created erotic drawings that circulated "under the cloak" and which were later baptized The Secret Work.
Bloodstained Nun
The doctor facing a very naked patient is still a caricature (Fig.3). Other works which are certainly "attacks on good morals ", remain of a fairly classic eroticism, even if games are played in threes. But Bonzagni shows a certain predilection for sadism. Acts of torture. Unleashed soldiery.  Whipping monks (Fig.5) and a satiated prelate beholding a bloodstained nun (Fig.7). Something to make shudder in the very Catholic Italy that this affirmed anticlericalism.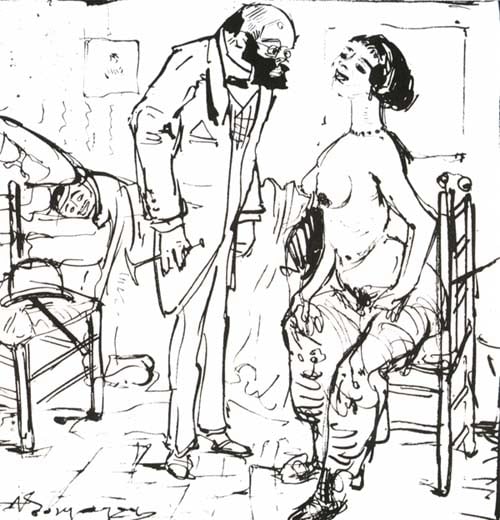 Fig.3.
Bawdy Cherubs
Even when a painting presents us with beautiful people escaped from a libertine work of the 18th century, with dresses lifted up by bawdy cherubs so that devils armed with dildos happily attack them (Fig.8).
Castigated Young Girl
Another painting in the same style shows us a castigated young girl calming down the warmth of her back and her buttocks streaked in a fountain, under a jet of water, while in the background her companion is being whipped in turn (Fig.9).
Divine Punishment
The Cagots* of the time saw Bonzagni's untimely death in 1918 as divine punishment. Funny thing is that since their claim the Gods didn't favor them and they passed away quietly while Bonzagni's work still exists.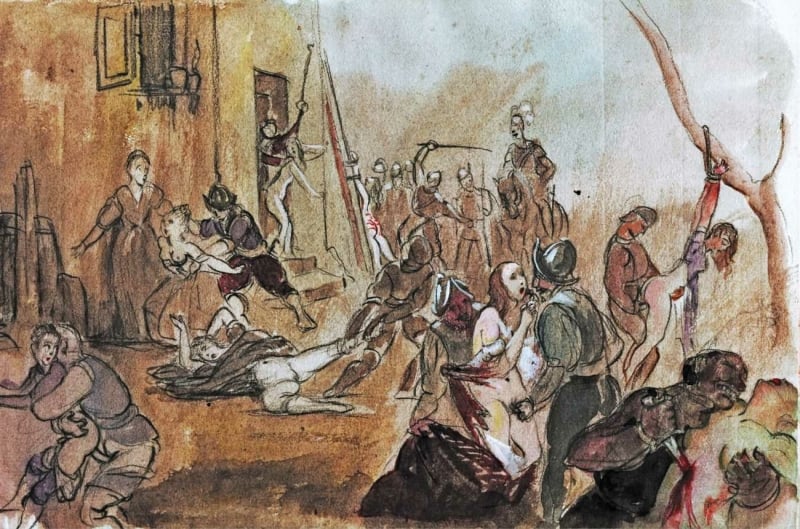 Fig.4.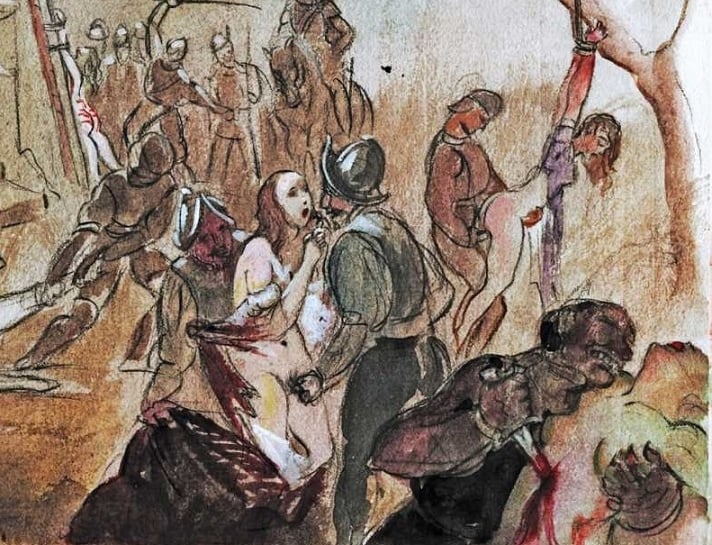 Fig.4a.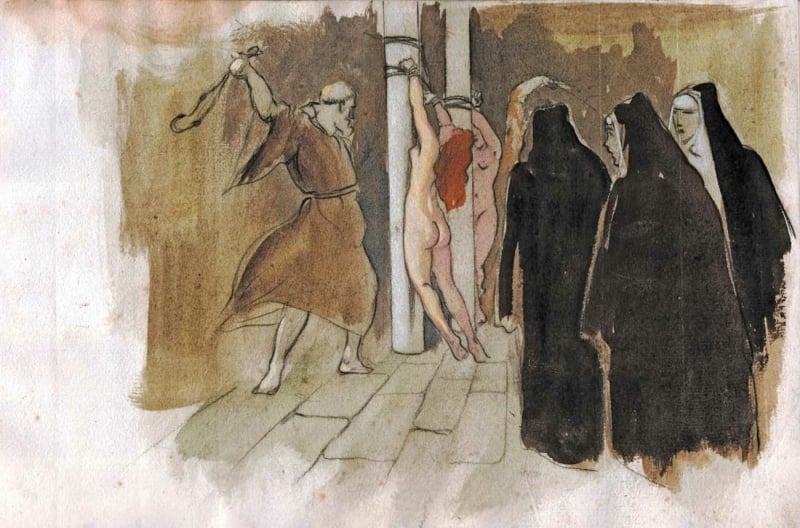 Fig.5.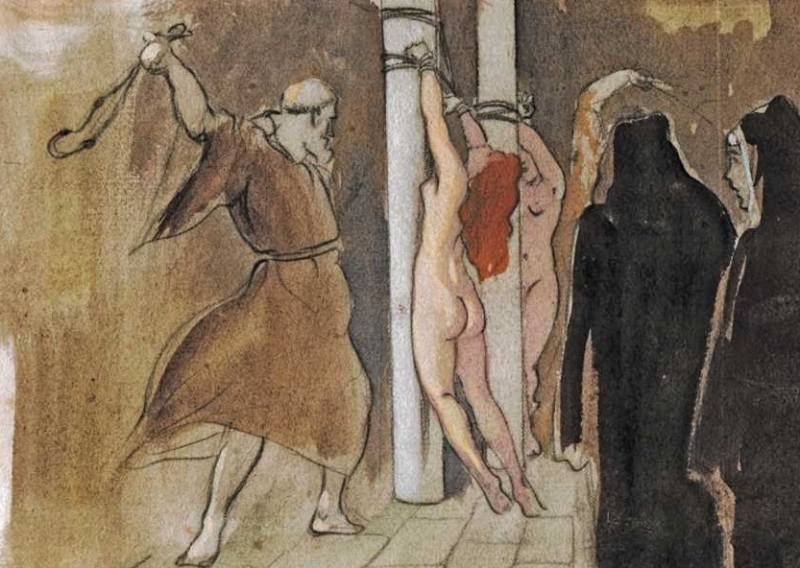 Fig.5a.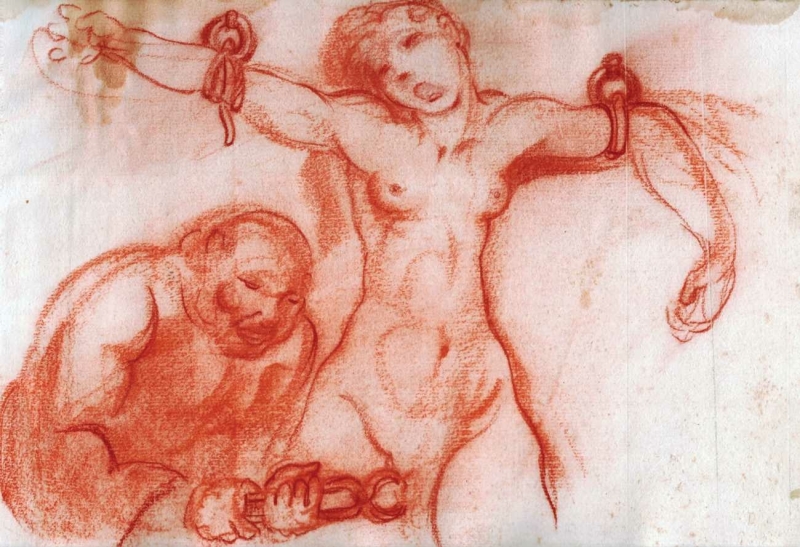 Fig.6.
Fig.7.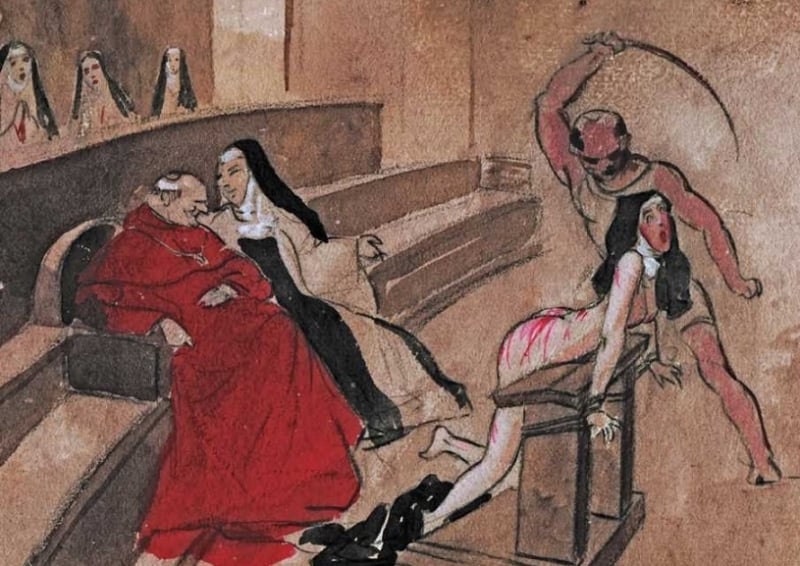 Fig.7a.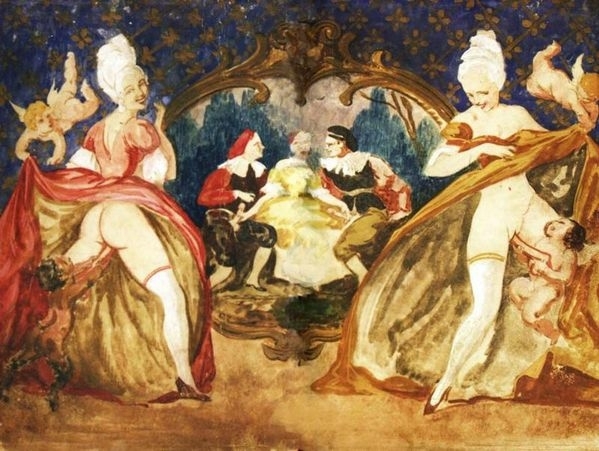 Fig.8.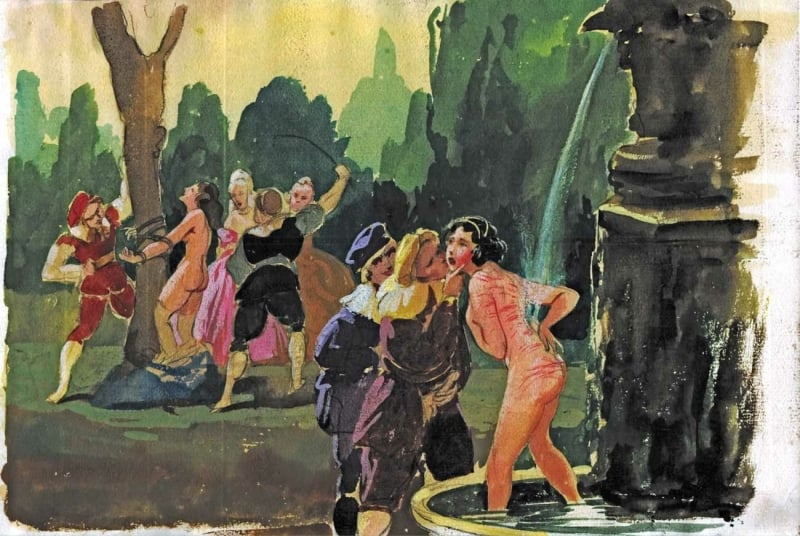 Fig.9.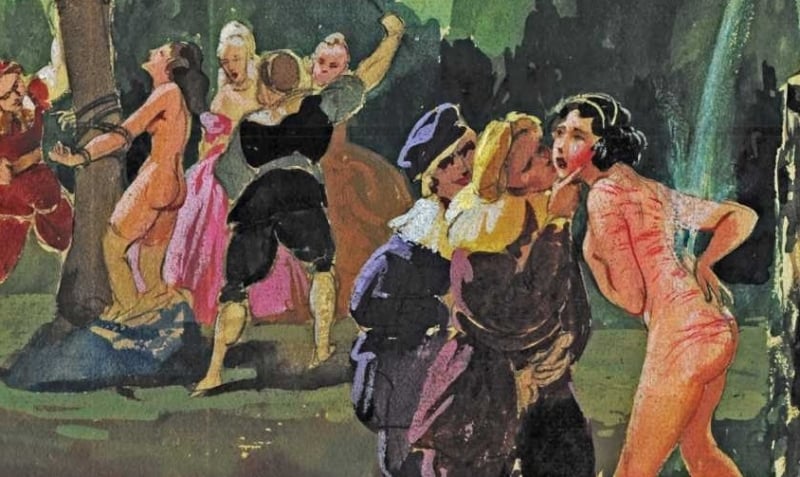 Fig.9a.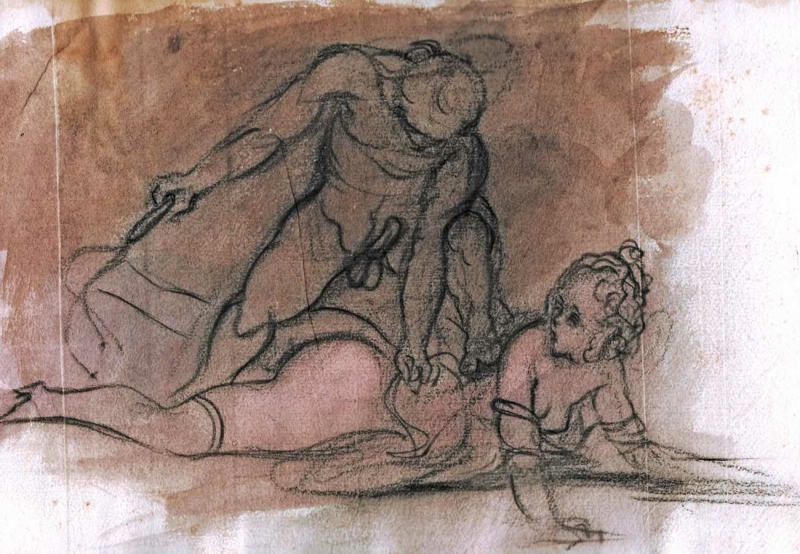 Fig.10.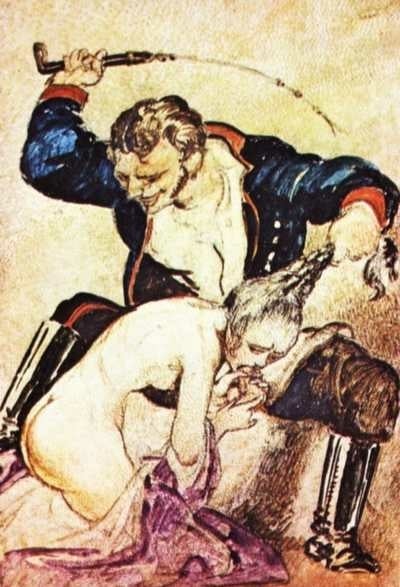 Fig.11.
Fig.12.
As the 24 remaining images from the set also depict the more disturbing fantasies we've included them to the Taboo section in Premium. You can check out what other members say about Premium on the following page.
Click HERE for the blasphemous sensuality of the French surrealist Camille Clovis Trouille
*The Cagots were a persecuted minority found in the west of France and northern Spain: the Navarrese Pyrenees, Basque provinces, Béarn, Aragón, Gascony and Brittany.
Sources: twitter.com, deblog-notes.com, spankingblog.com, vintagefettishart.com, deblog-notes.com,