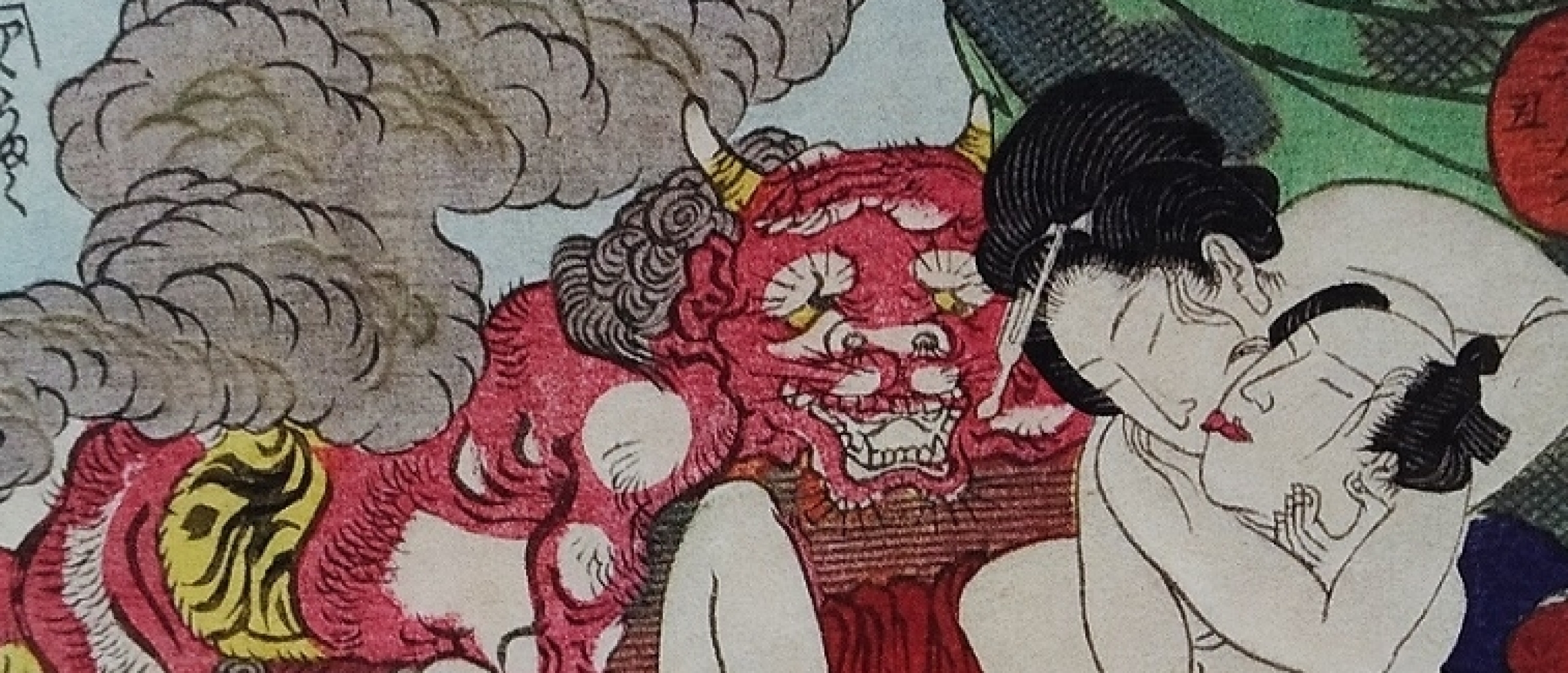 The Fascination For the Feared Raijin of Kyosai and Hokusai
The Japanese artist Kawanabe Kyosai, in the words of art historian Timothy Clarke, "an individualist and an independent, perhaps the last virtuoso in traditional Japanese painting", often drew pictures of deities, spirits and demons. One of his favorites was the Thunder God Raijin, who is among the most feared and respected Japanese deities. Below we'll discuss three examples...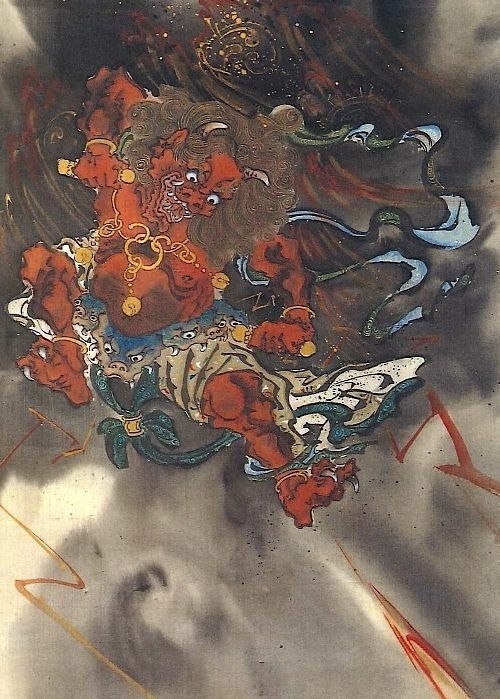 Fig.1. Scroll painting 'Japanese Raijin, god of thunders ' (Boston Museum of Fine Arts)
Curly Head of Hair
A driven Raijin fires his gusts of wind and thunderbolts at his target. Kyosai's delight in depicting this mythical figure really shines through. With special attention to the curly head of hair and the striking belt with foo-dog heads he wears.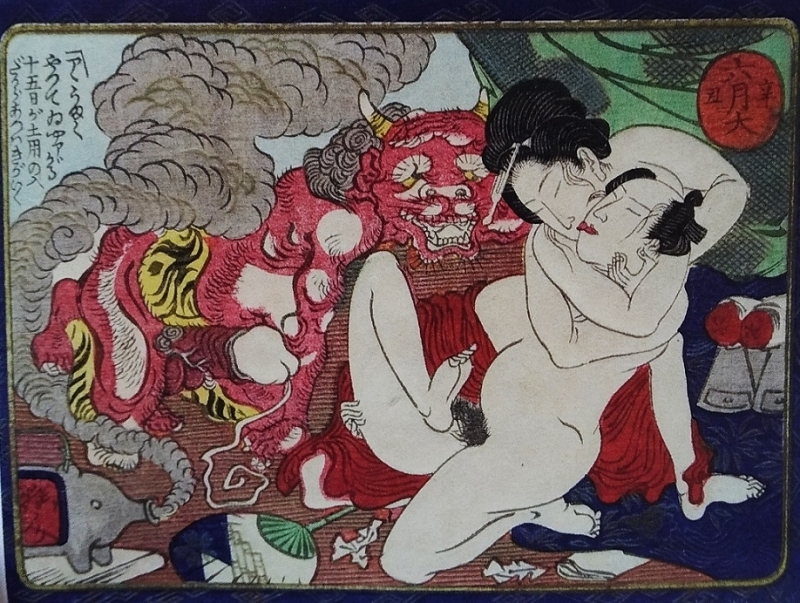 Fig.2. '6th Month' (1869) from the series 'Picture Calendar with Erotic Scenes of the Twelve Months '
Writhing Ejaculation
This smaller-sized koban design (Fig.2) is the sixth tableau from the series 'Picture Calendar with Erotic Scenes of the Twelve Months' (1869) referring to the sixth month (June). We see a couple making love on a hot summer night. Hiding within the smoke of incense burned to repel mosquitoes the Thunder God Raijin enviously watches them. The deity's writhing ejaculation is indicative of Kyosai's great sense of humor.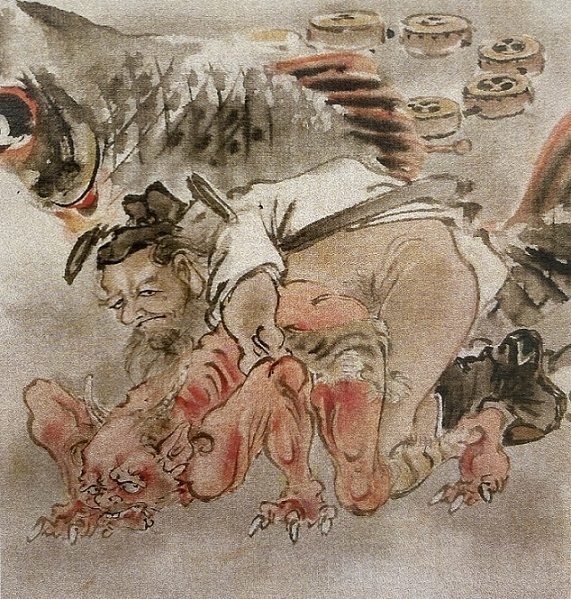 Fig.3. 'Shōki making love to Raijin ' (c.1870s) by Kawanabe Kyosai (1931-1889) (Source: Tuyashun)
Carp Streamer
Here Shōki (an icon of the Boys' Day Festival in the fifth month) is penetrating the Thunder God Raijin doggy-style. We know it's Raijin because the drums he uses to create storms lie in the back. Directly behind them, a carp streamer, a typical Boy's Day festival decoration.
Hokusai's Raijin
When it comes to depicting Raijin, Hokusai's work, albeit not erotic, cannot go unmentioned. The Japanese master completed this hanging scroll painting late in life, as he approached 80.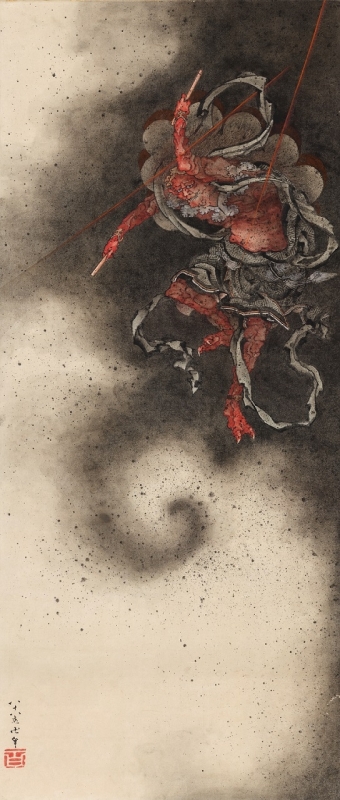 Fig.4. Hanging scroll painting 'Raijin ' (1834-49) by Katsushika Hokusai, Ink on paper, 226.8 cm (89.2 in); width: 67.7 cm (26.6 in) (wikipedia.org)
Enigmatic
Unlike Kyosai's scroll painting (Fig.1), the atmosphere here is more subdued (Fig.4). The playfulness in the image and the enigmatic facial expression of Raijin are striking. You can't put your finger on whether he is someone that wants to have fun and be pleasant but is forced to be imposing and fear-inducing. Is he just a reluctant servant? Raijin looks somewhat fatigued and aged. Perhaps Hokusai conveyed his own mood as an old man in this ambiguous deity. In that respect it is reminiscent of his painting of the old tiger.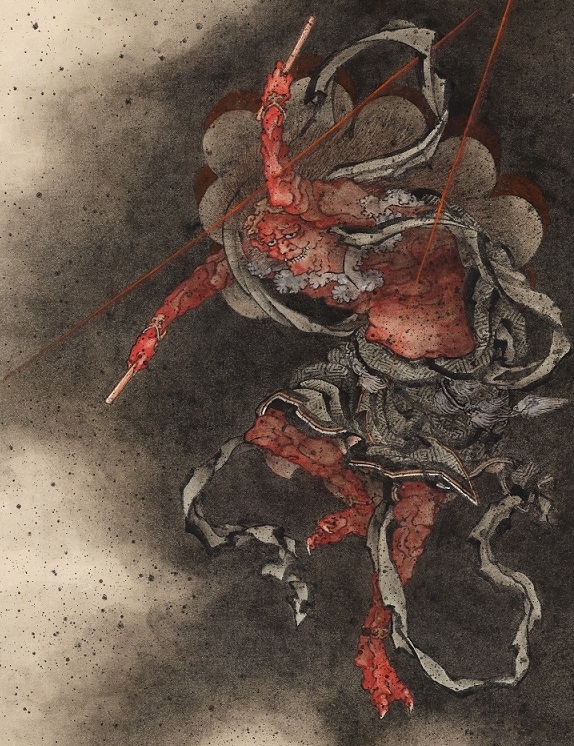 Fig.4a. Detail of Raijin
Height of His Abilities
Hokusai's masterful craft is present here in all facets - the numerous layers, the use of space and just a few vivid colors to evoke a compelling atmosphere, and how he mixes earnestness and liveliness. The painting is dark, ominous, funny, and sad all at the same time. In other words, here is an artist at work at the height of his abilities, who made his best work after the age of fifty.
Click HERE for an article on some rare erotic sketches of Kawanabe Kyosai
Sources: Pinterest.com, farooq-javed.com, tuyashun (twitter), wikipedia.org
Let us know your thoughts on Kyosai's and/or Hokusai's depictions of Raijin in the comment box below...!!