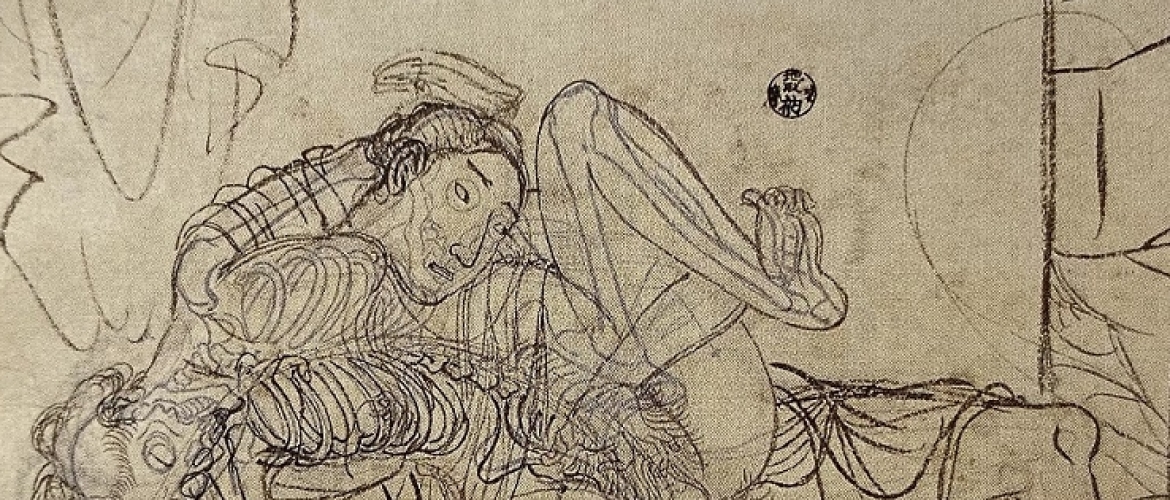 The Fascinating Shunga Sketches of Kawanabe Kyosai
Rembrandt once said that drawing is like walking—the only way to achieve results is by constant practice. The following three sketches by Kawanabe Kyosai (1831-1889) give a nice intimate view into the artist's working method. It provides the opportunity to follow his creative quest closely, and see how he conveys the emotions that flow through the bodies of his protagonists like a stimulus.
Self-fabricated Sex Devices
A study of females experimenting with self-fabricated sex devices. The female in the foreground is embracing a mattress with an attached dildo. A picture of her favorite kabuki actor at the head end. Kyosai's excellent sense of humor is clearly represented in the other female who is making love to a pole dressed as her favorite actor and equipped with a harigata. Also interesting are the figure studies (head portraits and ghost) of earlier sketches that are still visible.
Skeleton
A fascinating sketch of a young male making love to a female skeleton. First, the artist drew the contours of the body and then distilled the skeleton from this. Kyosai is famous for his comical figures of dancing skeletons and entertaining interpretations of folklore and the supernatural.
Sucking
For this sketch, Kyosai has clearly looked at the erotic work of his virtual mentor Katsushika Hokusai (1760-1849) and in particular his acclaimed 'Ehon tsuhi no hinagata (Picture-book Models of Loving Couples)'. The pose of the intimate couple seems to be a mixture of two tableaux (Plate 3 and 8) from this series. A young man is about to penetrate his female lover while sucking one of her nipples. Kyosai's protagonist is wearing messy clothes while Hokusai's male is completely nude.
Exercise Studies
I don't know whether these sketches were intended for prints or paintings since I haven't seen the end result up to now. It's also possible these were just creative exercises for Kyosai himself.
Click HERE for more articles on the shunga art of Kyosai or HERE for the sketches by another ukiyo-e master…!!
The images in this post are from the Japanese shunga addict Tuyashun.
Let us know your thoughts on the article in the comment box below….!!