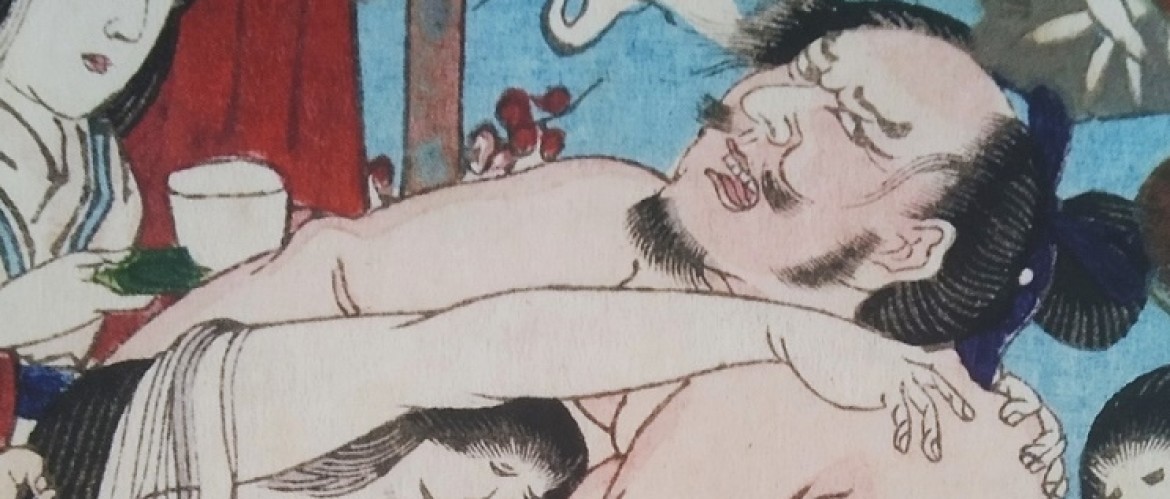 Sensual Sex in the Imperial Court by Kawanabe Kyosai
Today we briefly put the spotlight on an eye-catching design by the Meiji master Kawanabe Kyosai (1831-1889). The print comes from his series 'Byobu isso no uchi (A Pair of Screens)' that consists of twelve tanzaku-e sized (7 1/8″ x 3 1/3″) prints. Each sheet is accompanied by another (so twenty-four in total), pasted to the back, that shows a related picture with text on the reverse.
Opulent Details
Although the prints are small they are suffused with opulent details, with an abundance of gold and silver pigments, and embossing to the outlines of the bodies, giving it a three-dimensional effect. There are at least two editions of this set since there are two impressions of several sheets in the Israel Goldman collection. These vary in their use of different pigments, with aniline dyes in the later editions.
Magnifying Glass
This panel shows us an orgy in the imperial court. A man seen from the back holds a large magnifying glass to the genitals of the intimate couple providing a close-up of joined genitals. On the reverse (not included here) a female attendant peeps into the room.
Click HERE to check out other striking orgy scenes by Kyosai…!!!
Let us know your thoughts on Kyosai's shunga in the comment box below….!!