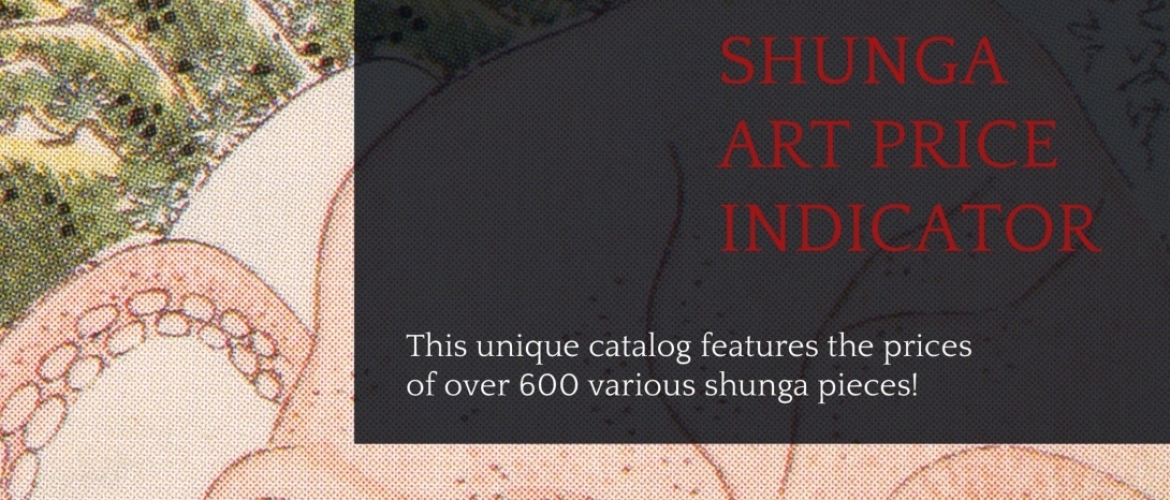 Discover the Price Secrets in Our Unique Shunga Art Price Indicator..!!
Often wondered what Hokusai's original The Dream of the Fisherman's Wife was sold for in the past?
Our unique Shunga Art Price Indicator offers no less than 5 RARE examples (both as an individual piece and in book form) of this most coveted shunga print.
Besides this S.A.P.I., which is ONE OF A KIND, includes 176 pages with prices of 600+ shunga prints, paintings and complete set of books.
All illustrated in color and including the name of the concerning artist, series and date if known (Shunga art was almost never signed).
The S.A.P.I. is the ultimate knowledge bank when it concerns the PRICES of shunga masterpieces by the greatest ukiyo-e masters such as Utamaro, Kunisada, Hokusai, Chokyosai Eiri, Kuniyoshi, Keisai Eisen, Tomioka Eisen, Harunobu, Koryusai, Kyosai and many more…
This EXCLUSIVE DIGITAL CATALOG reads almost as a physical book with a very natural wrap effect, when you turn the page. The visual animation of the turning page has been kept as realistic as possible and together with the natural sound of a turning page, the reader gets a pleasant experience. And when you double click on the page, the images will be enlarged.
S.A.P.I. is the world's first and only price reference on shunga, a great resource that will give you an excellent insight on its price!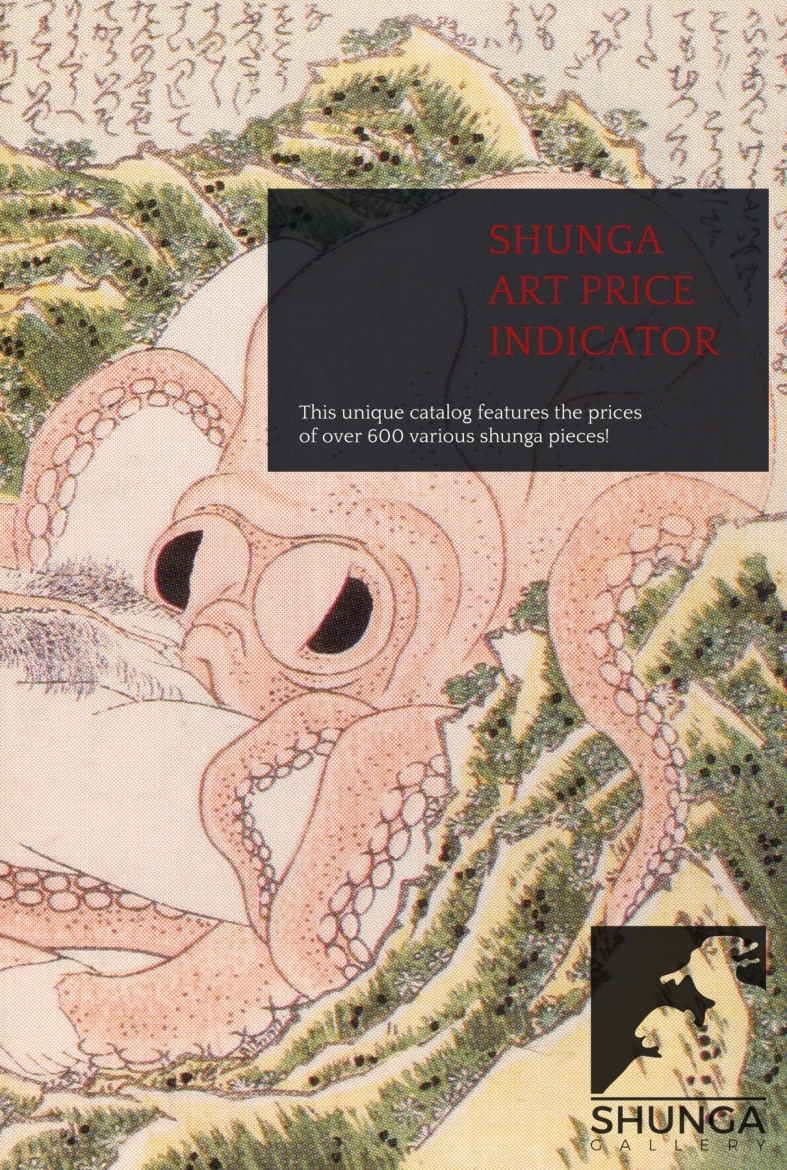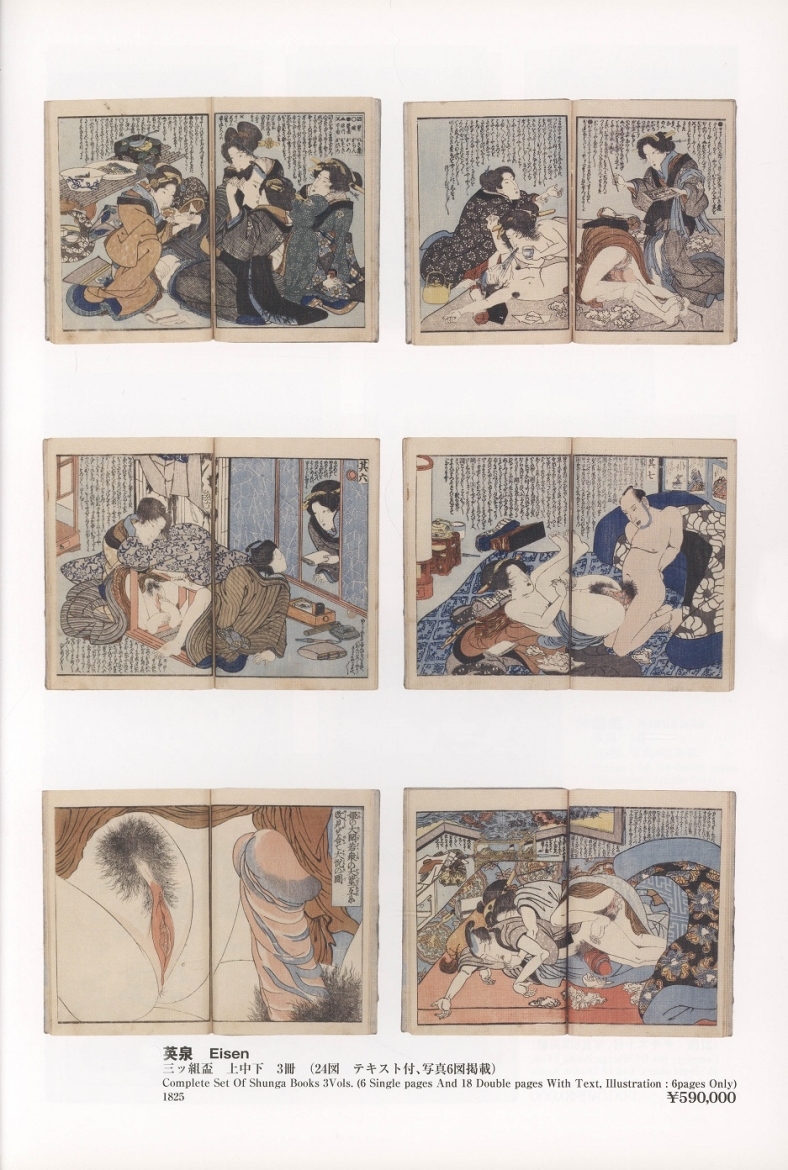 Many have already preceded you since the publication…
And have benefited from the one-time 50% discount offer on our new exclusive Shunga Art Price Indicator.
This magnificent guide offers a unique price index on rare shunga art collected from over 40 physical catalogues over the last two decades
5 price examples of The Dream of the Fisherman's Wife
complete sets of Hokusai's famous Tsuhi no hinagata
rare complete book sets by Toyokuni I, Keisai Eisen, Kunisada, Utamaro…etc.
shunga prints from Hokusai's monumental Fukujuso ( The Adonis Plant)
and the prices of 600+ other shunga pieces….
As one of the buyers remarked, 'Not only insightful with regard to its price index, but also nice to have a comprehensive overview of rare shunga art in one place!'
As a visitor of Shunga Gallery you'll now have a ONE-TIME OPPORTUNITY to obtain this unique catalog at a SUBSTANTIAL DISCOUNT, not for the usual price of Euro 19.97, not Euro 15.97, not even Euro 12,97, but for only Euro 9.97  (Approx. US$12 or JPY 1250)     
Yes, 50% discount! But be fast because this offer will not last forever..!!