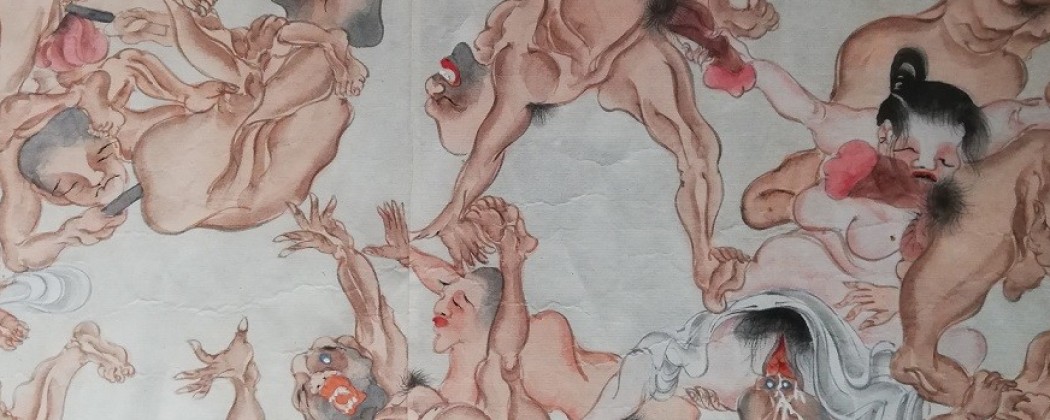 Insane Erotic Bacchanal Depicting Gay and Straight Buddhist Monks
We recently obtained this long (more than 13,75 ft) Meiji hand-scroll with a continuous polychrome erotic painting attributed to Kawanabe Kyosai (1831-1889)*. It depicts an extensive orgy scene with numerous participants in a crazy erotic bacchanal.
Homosexual Adult Men
In the portrayal of homosexual relations, scenes between adult men and young boys are common. This scroll is unusual in that is also shows relations between adult men. All the men are bald and are most likely Buddhist monks. Kyosai made several other similar works involving monks and sometimes even included Buddha.
Sacrilegious
Their intent is neither anti-Buddhist nor sacrilegious, but simply a representation of the artist's desire to create entertaining pieces for clients. In fact, Kyosai was known as a devout Buddhist, and a few years before his death he received the Buddhist name 'Joku Nyudo'.
Anus Experiment
Each section of the scroll is filled with figures, all conceived by and colored with Kyosai's own characteristic humor. For example, in one we see a gay threesome (Fig.17) with 3 monks who subject themselves to an anus experiment involving a stick.
Elderly Lesbians
In another, there's a rare lesbian (!) rendezvous between two elderly women (Fig.11 and 18), and even the portrayed horses on the screen painting are getting ready for some intimacy (Fig.5 and 6).
Blasting Fart
Hilarious are the scenes of the woman defending herself from two monks by releasing a sudden, blasting fart into the face of one of her attackers (Fig.15) and the impatient horny monks waiting in line for their turn behind a screen. Some are so eager that they grope each other (Fig.9). Or what about the running old "hag" who is dragging a monk around, who is stuck with his head in her vulva (Fig.16 and 21).
Mosquitoes
The scroll finishes with the attack of a swarm of mosquitoes attacking and hitting the unfortunate monks all over the body including their private parts (Fig.26, 27 and 28).
The size of the scroll is; H. : 27,3 cm (10 3/4″ inches); W. : 420 cm (165 1/3″ inches/13 3/4 ft). (Price: Sold)
Update 19/10/2021:
Recently I came across the original scroll made by Kawanabe Kyosai (Fig.31). So the above scroll is a copy painted by one of Kyosai's followers.
Click HERE for more articles on the Meiji genius Kawanabe Kyosai…!!
*According to the title slip of the scroll (Fig.18) the maker is Kawanabe Kyosai but it is not unlikely that it was made by a follower of the master.
What do you think about these kind of erotic scrolls? Let us know your thoughts in the comment box below!