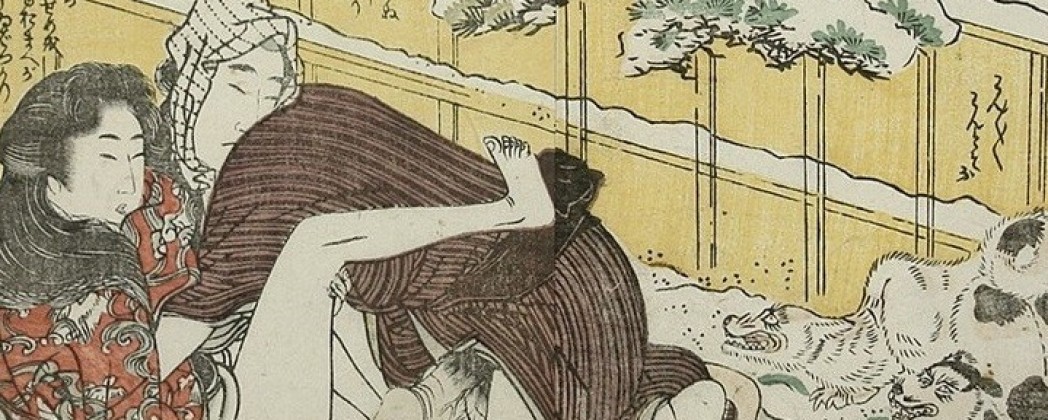 The Hostile Dogs of Kitagawa Utamaro II and His Teacher Utamaro
In the early stages of the training to become an independent ukiyo-e artist or at least climb up the hierarchy*, the student followed the style of his mentor closely**. A striking example of the transition from copying to integrating one's own ideas is pictured below.
Directness
The first print was produced by Kitagawa Utamaro (1753-1806) and is one of the better known designs from one of his most successful books 'Ehon karanishiki (Picture-book of Chinese Brocade)', issued 1802. The designs in these books are distinguished by a certain directness, with little added dialogue or unnecessary detail.
Woof, woof, woof!
We witness a couple outside under a shelter who are disturbed by a yelping bitch, and two pups. The only dialogue comes from the dog ('Woof, woof, woof!'). Almost a decade later his pupil Kitagawa Utamaro II (d.1831) was apparently so fascinated by the design that he wanted to give it his own twist.
Hostility
Like his mentor, Utamaro II also lets the scene take place outside, but in his image the environment is covered with a thick layer of snow. The dogs in his scene also seem more aggressive, as if they can attack at any moment, while the hostility of the mother dog in Utamaro's version is only to defend her pups. The dialogue is also back with even 3 "text balloons".
Click HERE for more sensual art by Kitagawa Utamaro II….!!
*Students who studied at a particular school (such as for example the Utagawa school or Katsukawa school) were allowed to bear the name of the school when their skill was approved. Hence Utagawa Kunisada, Utagawa Kuniyoshi or Katsukawa Hokusai.
**Recently we obtained a scroll with several preliminary drawings, sketches and studies. This will be covered in an article in the near future.
What do you think about the visual homage of Kitagawa Utamaro II to his mentor? Leave your reaction in the comment box below…!!