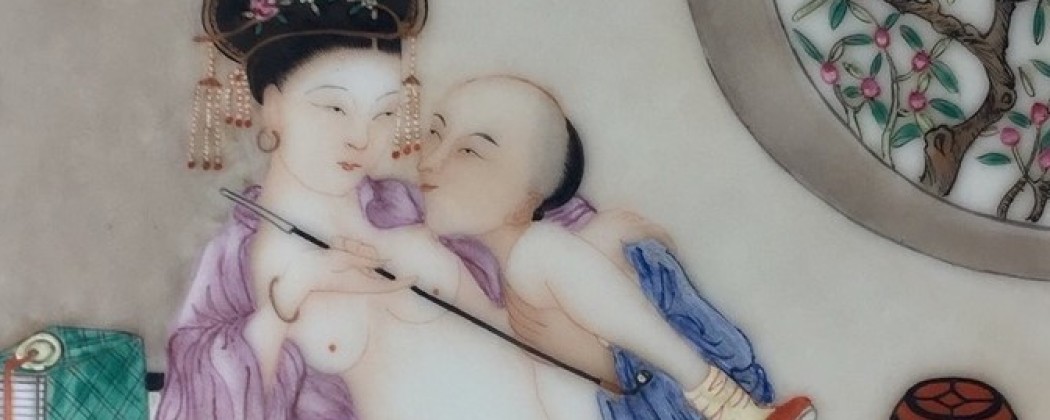 Unique Chinese Erotic Tile From the 19th Century Depicting Sensual Coitus
The following Chinese hand painted tile with an erotic interior scene of a young Chinese male and female engaged in coitus is new in our collection.
Self-Assured
On the painting a young servant boy, wearing the traditional Chinese queue hairstyle, is making love to a self-assured courtesan sitting on the bed. She has her arm around his neck during their love-making while leaning on a writing table with a stack of books on it.
Glittering
Her coiffure has been secured with a hat including glittering ornaments. The relaxed atmosphere is emphasized by the young woman's opened lilac gown that is casually draped along her naked body (exposing her bared breasts), the long pipe she is smoking and the man's fallen shoe.
Decorations in Brothels
These kind of tiles were produced from the 18th, but especially in the late 19th century. Sometimes they were inspired by illustrations of early popular novels, such as the Jinpingmei (The Golden Lotus) and the Xixiang ji (Romance of the Western Chamber). They often served as decorations in brothels, but at a certain point were also popular for export to the west.
Unique Tile
This unique erotic tile was produced at the end of the 19th century and is in an excellent condition with no damage or inpainting and was part of the renowned Ferdinand Bertholet collection. Like all Chinese erotica it is unsigned. It measures 10 1/4″ x 6 4/5″ inches and weighs 3 lbs.
The price for this piece is Euro 1785,-. If interested, you can contact us here…!!
Click HERE for more Chinese erotic art….!!
Do you prefer Chinese or Japanese shunga? Leave your reaction in the comment box below!