Complete Chinese erotic albums rarely come onto the market yet you can check out our new addition. This charming album consisting of twelve finely detailed paintings was produced in the late 19th century (c.1870s), and is from the reputable Ferdinand Bertholet collection. Each painting measures around 6″ x 5 3/4″ inches (15 x 14.5 cm).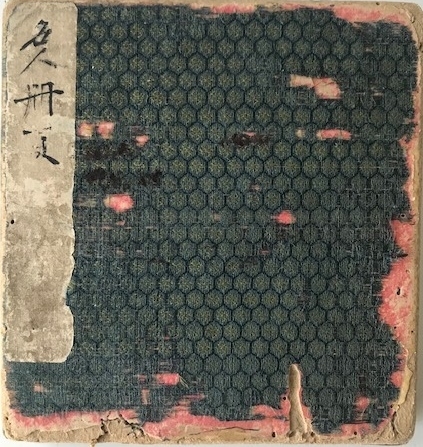 Fig.1. Front cover of the album
Prostitutes vs Courtesans
All the scenes in the album involve encounters of prostitutes (not courtesans) with their clients and take place in brothels of the third class. Unlike prostitutes, courtesans belonged to the elite of the prostitute's profession. They lived in high-class brothels (geguan) or tea houses and were cultured girls dressed in expensive silk garments and with servants at their side (Fig.2). A courtesan provided music, games, and high-quality conversation. She was able to refuse guests and only decided after a time-consuming journey of conquest (with many presents) whether or not she would accept a candidate as a lover.
Powder Head
The jiuguan, the "wine house" belonged to the second category. These were public brothels which were a little less luxurious and where one could already spend the night on a first visit. The flower girls in the jiuguan were sometimes also referred to as fentou, 'powder head', because of their heavily made up faces. These kind of courtesans were more flamboyant in comparison to the courtesans of the first class and were educated from a young age in the art of entertainment. Their clientele consisted mainly of junior officials, scholars and merchants of the middle classes, yet richer clients were also content to seek out their specific talents.
Willows on the Roadside
Brothels of the third class (the ones depicted in the scenes below!) were populated by the more inexperienced women who could only offer their bodies. Women of these lower-class houses were called luliu, 'willows on the roadside', to imply their easy availability. Sometimes these brothels also served as an escape for concubines who had run away from the bad treatment they received at home.
Lowest Class
There was also a category of brothels beneath this one, that consisted of a few poor, hardly furnished little rooms, which were the working area of the needy, unattractive and elderly women. They provided quick and cheap sex for poor solders, farm workers, artisans and porters. The prostitutes were given their meals whilst they were working in order to save time.
Flower Boats
A class of their own were the so-called huafang or 'Flower Boats' (Fig.3). These were eighteen to twenty-five metres long and 4.5 to 5 metres wide floating brothels. The most expensive boats displayed great luxury and excess, and there was a wide choice of beautiful girls, who were known as tianshuilian, 'heavenly water lelies'.
Fur Coat
A wealthy merchant wearing a fur coat offers a prostitute money to take him to her upstairs room. She is not a courtesan, because they are of a higher class and cannot be "bought" in such a gross way. A young male servant holding a kettle enviously observes them standing in the door post.
Female Voyeur
A luliu is reading a poem while her male listener is caressing her private parts. A curious female observer can be seen through the window in the background. Striking is the peculiarly shaped wooden writing desk with the marble top the girl is leaning on.
Moon Gate
A flirting young couple seen through a moon gate on the top floor of a brothel. They're passing their time looking through an erotic album. The latter is a recurring theme in Chinese erotica.
Pigtail
A young man, his long pigtail draped over his back, having a private intimate moment with his lover lying on a cushion on the bed.
Sleeping Woman
A young male client pulls up the blanket to indulge on the private parts of a sleeping prostitute.
Nude
A nude luliu sitting on a rock in the garden is making love to a likewise nude lover. Her legs embracing his lower body.
Burning Candle
A female tries to put out the burning candle on the desk with a fan while her male client embraces her upper body.
Squatting
Here, a young prostitute is squatting on the bed while her standing lover tries to penetrate her from the rear.
Sideways
A young couple making love sideways on the bed. A pair of shoes of the young male lover stand on the wooden step.
Insatiable
An insatiable girl wants another time but the young man can't perform anymore as he's satiated.
On The Bed
A, with exception of their footwear, completely nude mature couple making love on the bed. The man's pigtail is hanging over his shoulder while the older prostitute leans against a pillow and relaxes with the hands behind her neck.
Virgin
A young, hesitant virgin prostitute keeps her legs closed while her male client tries to convince her to do the opposite.
The album is now available for sale (SOLD). 
Click HERE for a complete set portraying the Shanghai decadence of the 1920s….!!
Source: Concubines and Courtesans: Women in Chinese Erotic Art by Ferdinand Bertholet
Do you prefer Chinese or Japanese erotic art? Leave your reaction in the comment box below…!!