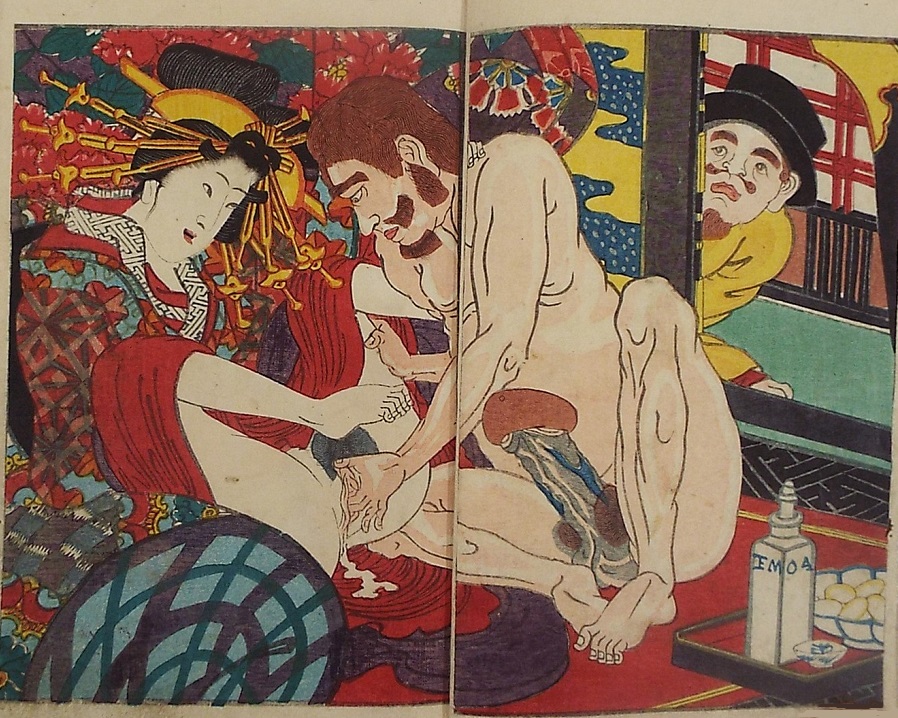 The Shameless Adventures of American Traders and Geisha's
The arresting shunga designs below are by the rather unknown artist from the Utagawa school named Ikkokai Meshimori (act. 19th C.). The book series is called 'Embarking at the Harbor of Love (Shunshoku minato no irifune)' and was published around 1855.
Americans
The images portray eccentric Westerners, in this case mainly Americans, visiting brothels in eastern Japan. Ironically they are based upon those of Dutch traders in Nagasaki. The book is pretty unique because it almost only shows these striking foreigners…
An American with curvy hair is stimulating the clitoris of a geisha.
On a roof terrace of a brothel an American merchant wearing a hat is penetrating a geisha from the rear while she is holding on to the railings.
An intimate moment between a complete naked American client and a geisha while a naive colleague of the American is spying upon them. The bottle on the plate in front of them is decorated with pseudo-English characters.
A French brothel visitor wearing a beret is enjoying himself with an oiran (high-class courtesan) in a backroom while his friends keep partying on the terrace. A striking detail is the purple cloth around the man's penis to enhance the orgasm.
For the sake of variety we can see an amusing encounter with a Chinese foreigner making love to a geisha. The purple kimono of the courtesan displays puppies.
Two bearded Americans are entertained by two geiko*.
Hilarious scene featuring a Javanese servant who is penetrating a folding screen encouraged by a geisha who is masturbating a Chinese client.
A courtesan french kissing a regular American client.
From a different book (c.1830s) by another Utagawa school artist a striking scene with a Westerner performing cunnilingus on a geisha…
Click HERE for other articles on shunga depicting Westerners…!!!
Photo source: ukiyoe-art.blogspot.nl
*geiko is another word for geisha