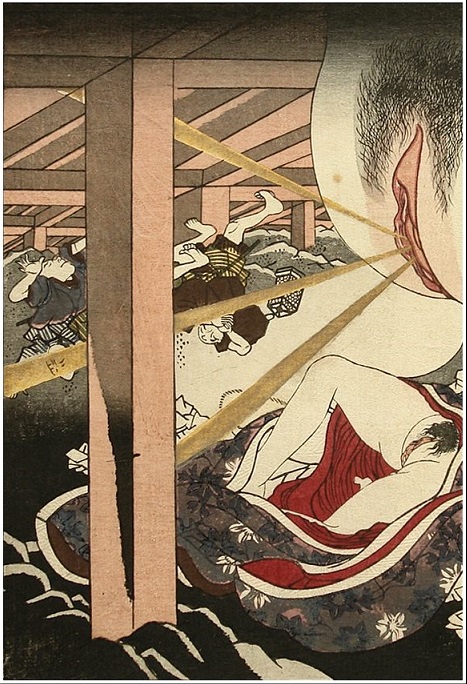 Be a Witness of the Transformation of a Kitsune Woman
The supernatural was an important part of ancient Japanese culture and therefore was also treated in shunga at times. The design below featuring the apparition of a kitsune woman is an excellent illustration of such a scene.
 Kitsune Woman
In this incredibly rare surreal shunga print by Utagawa Kunisada (1786-1865), that takes place underneath a big house (probably a temple), we can observe a kitsune (fox spirit) leaving the body of a young dead woman. She is surrounded by numerous crumpled tissues that indicate her insatiable lust. The two baffled men in the background are attacked by a giant vulva which is shooting fire beams in their direction.
In Return For Sex
Fox spirits could transform themselves into male or (more usually) female human form to trick people into having sex or to try to obtain something from them in return for sex. They were shown either as foxes dressed as humans or as humans with tails.
Pleasure In Spring
The design is from the series 'Shunshoku Tamazoroi' (An Assortment of Pleasure in Spring)' that was issued in the Kaei period (1848-1853).  The three volumes were illustrated by Kunisada and the text came from the author Shotei Kinsui (1795-1862) who wrote under the pen name of Nyokan.
Fur Of the Fox
The print has some excellent printing details such as the blue 'bokashi' -shading on the woman's face which is an indication that she has died and very detailed use of embossing to the fur of the fox spirit.
The following Manga animation shows that the Kitsune legend is still present in Japanese pop culture:
You can find more info (including the price) of this Kunisada masterpiece when you click HERE !
The following article includes another design of an aggressive vagina!