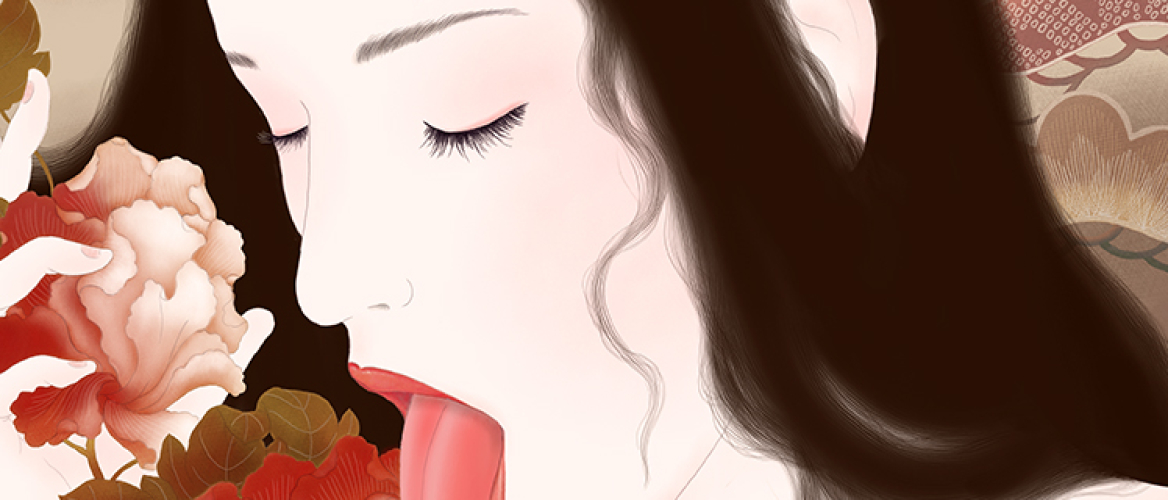 New Senju Shunga Art: Gentle Tongues, Seducing Fox Spirits and Gustav Klimt
The Swedish artist Senju Shunga hasn't been inactive these last few months. Besides a nice new publication of a booklet called The Secret Garden (that I will cover shortly!), he  produced some very nice new variations on sensual themes he already used in some of his older paintings.
Gyokumon
The first piece below, is entitled Gyokumon and offers a new perspective on Senju's earlier Gyokumon (beautifully decorated gate – 2017) and Musei (wet dream – 2017). Gyokumon is a Japanese euphemism for vagina.
Secret Dream Fantasy
In the artist's imagination Gyokumon is represented by a female who passionately moves her tongue over the chalice of a flower while her fingertips slowly touch the satin leafs. She is his secret dream fantasy, that spells like the title of a poem, that has yet to be composed. Its subtle scent that of pink and white peonies. The eyes are closed. She is in the moment. The young woman and flower become one.
Kitsune
In the tall grass of a misty field lit by the full moon we are looked at by a nine-tailed kitsune (fox spirit). It is disguised as a beautiful young girl holding a butterfly. Her deep brown eyes betray that she is not that innocent. This second painting 'Kitsune', on the topic of the same name is one of Senju's favorite themes and can be found in many of his earlier tableaux such as Shuugetsu (autumn moon – 2015), Kitsune (2016) and Tenko (fox spirit – 2017), or Kitsunetsuki (2016).
Gustav Klimt
The last painting "Kuchidzuke" (kiss) is an energetic and daring homage to Gustav Klimt's most famous painting The Kiss (1907-08). The two Western protagonists in Klimt's painting are replaced by a heavily-tattooed Japanese couple. The Japanese woman has a large tattoo of a Phoenix (Fenghuang) on her buttocks. In Senju's translation the loved ones seem to drown in each other's eyes in contrast to Klimt in which the couple has no eye contact at all.
All three pieces are available in a very limited print edition that can be obtained (I am not an affiliate!) on the following page…!!
Click HERE for many other articles on one of the most prominent modern shunga artists of today..!!
Source: 'Kagami – Contemporary Shunga' by Senju Shunga