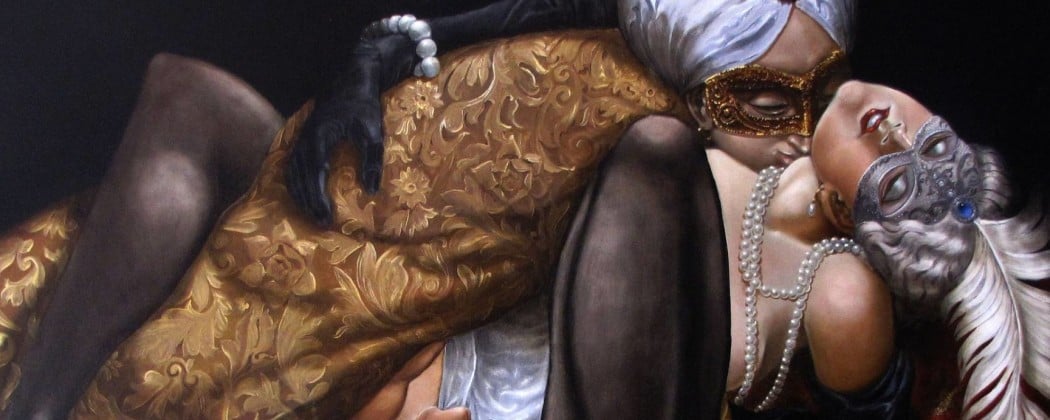 The Erotic Masquerades of the Enigmatic Andrea Alciato
In the search engines the name Andrea Alciato only refers to the Italian jurist and writer who lived in the early 16th Century. Of the enigmatic artist with the same name we discuss today, little biographical data can be found (except that he comes from Austria).
Utamaro
The same mystery can be found in his paintings that mainly are populated by masked figures. When I came across his painting 'The Golden Coat' (Fig.2.) I immediately was reminded of an erotic design by Kitagawa Utamaro (Fig.1.).
Mask
This striking night scene that takes place in the open-air displays the intimacies of two shamisen* players. The (most probably blind) male is wearing a mask. They are joined by two cute puppies.
Michiel Sweerts
In a description of his work 'The Golden Coat' (at Saatchi Art), Alciato explains that he became fascinated by the life and art of Michiel Sweerts (1618-1664). Sweerts was an outstanding Flemish baroque painter (Fig.4.) and printmaker. Little is known about his early life and nothing about his education. He was an avid traveller and worked in several places in Europe and the middle-east and died at the age of 46 in Goa.
Japanese Shunga Prints
Alciato notices that none of Sweerts middle-eastern work survived and he began to imagine of what would have happened if Sweerts had come across Persian erotic miniatures, or Japanese shunga prints, what certainly could have been possible. He wondered, how would Sweerts have merged the leveled stylized view of the oriental eye and the technical gimmicks and cannon of the northern 17th chiaroscuro tradition? How would the explicit intimacy look like in that multi-cultural fusion?
Smother
Athough the Dutch-Flemish baroque painting is laden with the erotic, it is buried underneath the black velvet and white laced suspicion that constantly threatens to smother it. Alciato enjoys the broad-mindedness of shunga and Persian miniatures and its relaxed attitude to the erotic.
Supernatural
In his paintings, he adds masks to evoke a supernatural element to the protagonists which turns them from portraits into archetypes. They are both broad and captivating, but at the same time also a little alienating and confounding.
Oriental Prince
Here the oriental prince (Fig.2.) embraces and consumes the cheerful Western showgirl in a whirl of vulgar, colorful chiaroscuro detail. It also refers to the contemporary climate in which mistrust and contempt that feeds our fears of 'the other', the change of demographics and mixed marriage are masked as an impenetrable cultural conflict. He suggests that maybe the beauty of Eros can help us find resolution.
More exciting art of the artist…
Click HERE for more exciting modern shunga…!!!
Source: Saatchi Art
*A shamisen is a traditional Japanese three-stringed musical instrument.
As the comments below indicate, the opinions about this paintings are rather divided. What do you think?