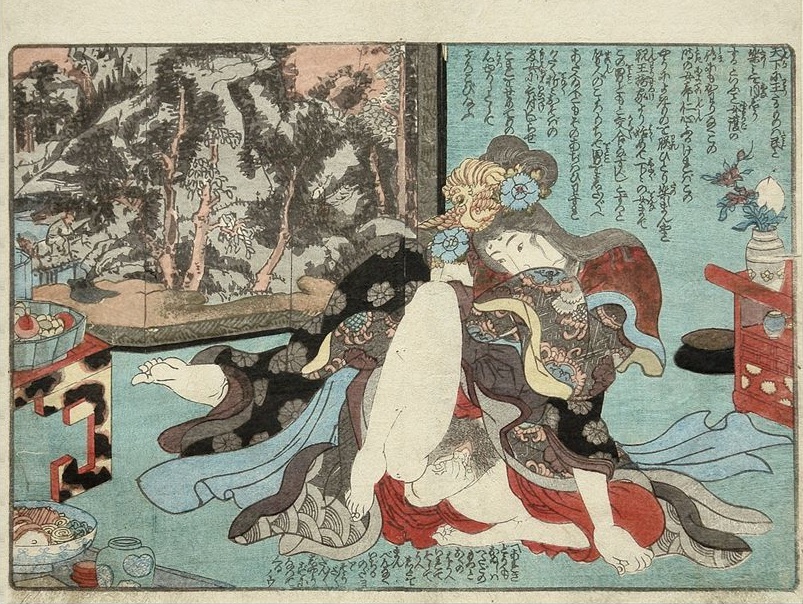 The Sex Adventures of Three Castaways on the Isle of Women (P2)
In the first part we examined the Chinese and Buddhist sources that inspired Kunimaro's shunga book series 'A Treasure Ship Embarking at the Island of Women'.
Unsuccessful Revolt
Another source implied by the title of Kunimaro's book is the puppet play The Isle of Women from the Tale of the Heike (Heike nyogo no shima). It is written by Chikamatsu Monzaemon (1653-1725) and was first performed in the year 1719. This play was inspired by a historical event known as the Shishigatani Incident, in which three men were extradited after an unsuccessful revolt in 1171 against the military leader Taira no Kiyomori (1118-1181).
Demon Realm
In the play, Naritsune, an attendant from the conspicuous Fujiwara family, together with another attendant Yasuyori, and the monk Shunkan, find their way to a certain Isle of the Demon Realm (an unidentified island), where Naritsune meets and marries the female protagonist Chidori.
Immortalized
In Kunimaro's eroticized version, the three male protagonists have been remodeled into a playboy, a craftsman, and an incompetent doctor. Chidori becomes an "immortalized" monarch partially inspired on the Chinese deity Xi wangmu (Mother of the West).
Penis Inspection
In the first illustration above (Fig.1.) the three men have arrived on the island and are presented to the female monarch, who inspects their erect penises. The following scenes (Fig.2 and 3) show Naritsune and Chidori in several sexual adventures, while at the same his fellow countrymen invite other women from Chidori's following.
*Painting inspired on Kunimaro's print:
In the final third part we'll take a look at the influence on the interiors in the designs and conclude with an exciting video including all the double-plated images!