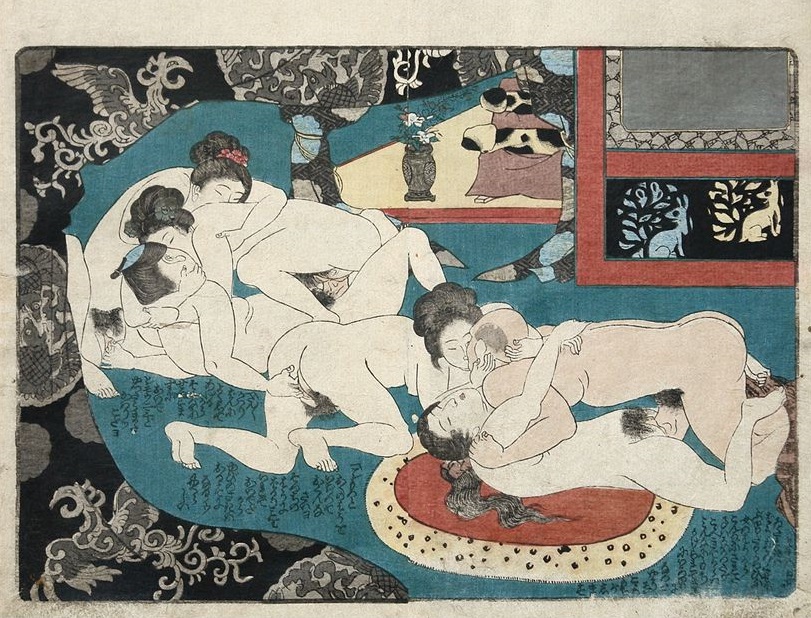 The Sex Adventures of Three Castaways on the Isle of Women (P1)
For Utagawa Kunimaro (act.1830s-1860s)'s most famous work 'A Treasure Ship Embarking at the Isle of Women (Nyogo no shima takara no irifune)' from c.1848 he was inspired by at least two sources. The first one was the Chinese encyclopedic work Collected Illustrations of the Three Realms (Sancai tuhui), which was first published in 1609. and was his source for including the "Country of Women" in Kunimaro's shunga version.
Escaped Sailor
The myth of the Country of Women is traceable to circa the early twelfth century China. It tells the story of a sailor who escaped from a mysterious island to the east inhabited by women. These latter were lethal to all those whom disaster brought to its shores.
Exposing Their Genitals
Already in the beginning the stories of the island had strong erotic connotations, for instance, there is a Japanese Buddhist fantasy which mentions that the women could conceive children by exposing their genitals to the south wind.
In part 2 we'll examine another source that Kunimaro used for his erotic masterpiece!