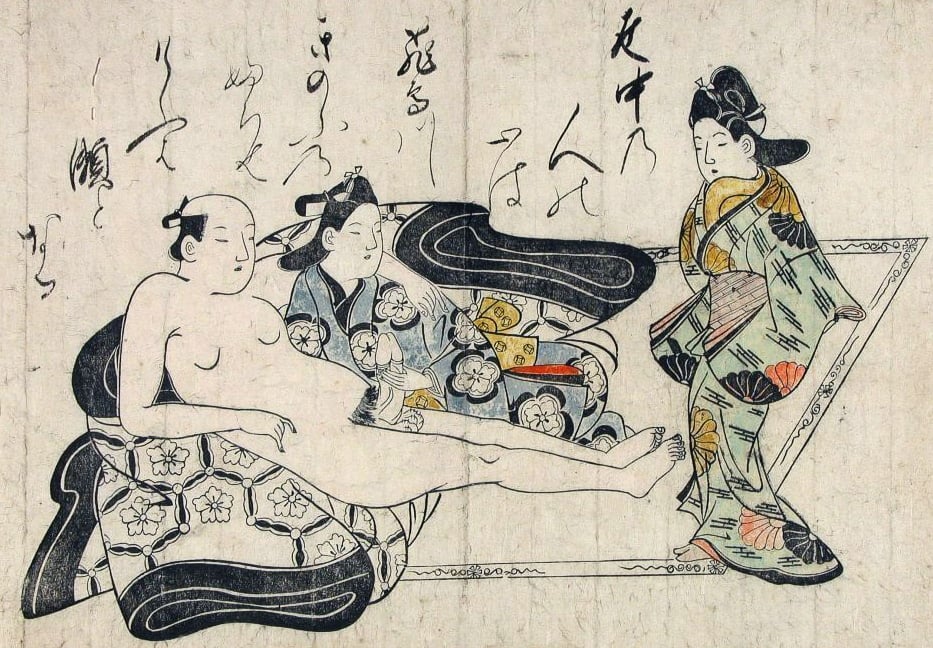 Hishikawa Moronobu: The Powerful Austerity of a Shunga Pioneer
Hishikawa Moronobu (1618-1694) is generally considered the first true artist of ukiyo-e and founder of the art of the Floating World. He was not the first figure, but none of his predecessors possessed his distinguishing style and productivity.
Refined and Balanced
At what exact point he made his appearance, one cannot say. His first signed work that dates back to 1672, already reveals a full-developed style, similar to that of the Kanbun Master (act. c.1660-1673). Shortly after his style became more refined and balanced. It retains the strong black line but adds to it that dramatic 'juxtaposition of bodies' that is so characteristic of Moronobu.
Sexual Misconduct
In his era shunga books often depicted samurai, the nobility or geisha in the act of sexual misconduct, or were erotic parodies on the classical poets. Although Moronobu's work also included these kind of humorous themes and blends the erotic and popular, his approach is surprisingly serious.
Superlative
In the two decades from 1672 up to shortly before his death Moronobu produced about 150 shunga book sets, which became the source-book for his followers, and for the future generations of ukiyo-e artists. Of his extensive collection of superlative designs, probably one fifth are shunga, which is about the average for the erotica output of a ukiyo-e artist.
He added a smooth and powerful flow to his drawings which carry an air of total assurance. His most notable work was produced in the 1680s. While the majority of his shunga is to be found in the illustrated books, some of the most spectacular designs are seen among the series of single-sheet prints (he was the first to design single-sheet prints).
* Below you can find the black and white version of the colored impression in Fig.1.:
Click HERE for an interesting article on another important pioneer of the shunga genre..!!!