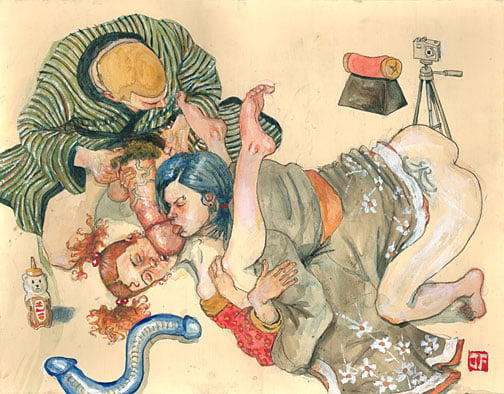 Jeff Faerber's Naughty Erotic World (NSFW)
Although the skinny and bony figures in the paintings of Jeff Faerber have stylistic similarities to Egon Schiele (1890-1918), his protagonists make a more cheerful impression. The scenery of his paintings as a whole offer a nice fusion of components of the ancient Japanese shunga (erotic) art and elements of contemporary Western culture.
Easily Offended
Faerber's series of acrylic paintings (on his site they are called The Shunga Project) are actually modern representations of shunga.  These are bold paintings with unabashed depictions of hardcore sex that will shock the easily offended. Some of the pieces have leaked paint and stained details that contribute to the maladjusted attitude of the artist. Another striking feature are the accompanying cryptic titles of the works that remind me of my favorite Lowbrow artist Robert Williams (1943)
The included text in this article and to the illustrations below are my observations and views and not that of the artist Jeff Faerber…
Lesbian
The onlooker is offered a shameless lesbian encounter with a tattooed woman rimming the asshole of her female partner. The latter excitedly bites into a light blue vibrator. Next to them lay other sex toys such as green-colored orgasm balls (Ben wa balls or rin-no-tama) and a pink butt plug.
Threesome
A well-endowed set of male twins interrupt their love-making with another girl to drink a cup of tea. The folding screen behind them and the wakizashi samurai swords that lay besides them are typical references to the ancient ukiyo-e shunga prints. They both wear identical traditional kimono's.
Double-Sided Dildo
An "Overhead shot" (viewpoint from above) of a striking threesome with both the cheeky girls licking the giant cock of the male participant. They record themselves with a digital camera. Behind the camera stands an ancient Japanese geisha pillow. The tagaigata (double-sided dildo) is a silent witness of their previous sensual activities.
Hokusai
A bald-headed man sporting a goatee is having an orgasm inside of his female partner. She is conventionally dressed like an ancient Japanese courtesan. Next to them lays a Tarzan vibrator and behind them a fan featuring the Great Wave by the great ukiyo-e master Katsushika Hokusai (1760-1849).
A man with a newly shaved head is penetrating his lover sideways. The juxtaposition of the iBook and traditional Japanese attributes such as the shamisen* and samurai swords behind them are amusing details.
Coconut Oil
The title betrays the intentions of this young gay couple. They are experimenting with coconut oil as a possible lubricant. The tattooed leg of the submissive male features a typical contemporary tattoo including a skull. They are surrounded by many traditional Japanese items such as a gold-lacquered folding screen, portraying a pine tree in bloom, and in front of the screen a furo (portable brazier) including hibashi (iron chopstick pokers)**.
In his most recent work (2018) Jeff Faerber includes long enigmatic descriptive titles with amusing references to our contemporary interaction:
Click HERE for Jeff Faerber's most recent work!
Click HERE for more shocking modern shunga !
Click HERE to visit the website of Jeff Faerber !
* A shamisen is a three-stringed instument
**These are implements for a tea ceremony
Thanks for reading the article. I am curious about knowing your thoughts about this art. Can art be too offensive?