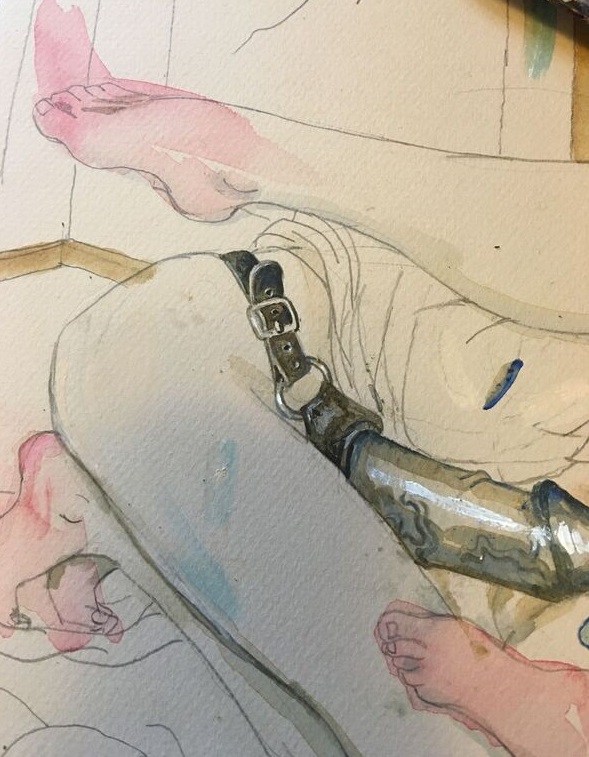 The Decomposing of a Subversive Piece of Art Depicting a Threesome
The depiction of threesomes within the art of shunga is not uncommon but they are pretty scarce. In many cases it concerns a male with two females or one female with two males (often gay related). Although threesomes are pretty rare in ancient Japanese shunga, in the subversive art of Jeff Faerber (1974) it's the rule rather than the exception (slightly exaggerated).
Strap-on
Below you can find such an example displaying an amusing and unusual adaptation with one of the females sporting a strap-on (in Japanese harigata) penetrating the male while performing cunnilingus to the other female protagonist. It shows the work from the early sketch stage to the finished painting. At the end you can find two examples of ancient Japanese shunga by Utamaro and Shuncho with similar themes…
This unrecorded print is surely one of the great ukiyo-e lesbian designs. It predates by around a dozen years, the famous image of the same subject by Chokyosai Eiri (c.1789-1801) from the series Models of Calligraphy, c.1801.
Click HERE for more subversive art by Jeff Faerber and others…!!!
Click HERE for content on striking ancient shunga…!!!