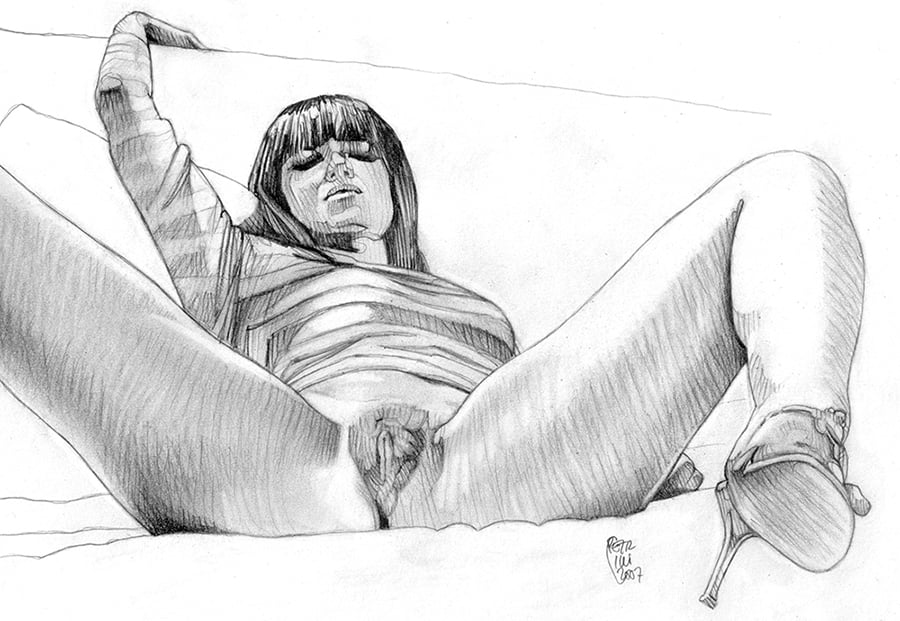 The Grace and Elegance of Giuseppe Petrilli's Art (An Interview)
A couple of weeks ago I came across (actually the artist Jeff Faerber brought it to my attention) a compelling image of an octopus embracing a tied young woman wearing nylon socks with ribbons set against a rose pattern background. I found out that the name of the artist is Giuseppe Petrilli (1970) and decided to contact him for an interview and learn more about his motives. Below you can find the result…
1)You are self taught. Who (or what) had an important influence on your style?
Yes, I am self-taught and this mean that my artistic work is developed on the basis of direct experiences, motivated by instinct exclusively. While admiring the great masters of erotic art I have always tried to let myself be influenced the least possible, even if today it's difficult for the continuous media bombardments from which it has become almost impossible to escape.I think it's fundamental for an artist to be able to make his own art recognizable and immediately identifiable, but I realize that today it is extremely easy to incur in"déjà vu". In any case, often what inspires me more by an artist are the atmospheres of his works rather than the techniques.
2) Did you have a real-life mentor/teacher who taught you the painting/drawing techniques or did you learn that by studying books and/or other sources?
Absolutely no "physical" teacher. What I do I learned with practice, exercise and observation, refining the techniques and mixing them, with the intent to create a personal style.
3) I like the Animalz series featuring the tied girls accompanied by the different aninmals. What's the idea behind the series and its presentation (boxes)?
I liked the idea of recreating situations in which it was a bound subject, then forced and unable in some way to react, surrounded by free and dangerous animals, in wild or dreamlike contexts. The intent is to act on the psyche of the viewer recreating a feeling of subtle "angst", which is often also a source of excitement for many people.
4) So I guess you are also familair with the art of shibari (and artists like Ito Seiu and Nobuyoshi Araki)?
The shibari and related techniques fascinate me a lot, so I decide to use them in my drawings and in my photos. I use rather simple ligatures and have a purely aesthetic purpose, these are techniques that can not be improvised, but I will consider studying them in the future. Yes, I particularly love Araki, I consider myself lucky to have one of my works published alongside some of his shots in the same catalog published for an exhibition.
5) Why is the Animalz series presented as a box?
I made the first work for the"Animalz" series for an art-exhibition in Milan to which I was invited to participate to advertise a new medium called "Openbox", a cardboard box, in fact, on which to create works of art. I simply liked the yield so I decided to make even the next ones on the same support.
6) On YouTube I came across a video in which you talk about a photobook. Unfortunately it is in the Italian language, what can you tell us about this book project?
In this video we talk about my first solo-show of photography in 2017 entitled "She is a Jewel". I have always worked with non-professional models and for me photography has always been the "medium" to create my works of art. In recent times I decided to deepen photography and I started to make shots that could remain so and to collect them in a blog on Tumblr. I do not consider myself a photographer and I have with photography the same approach I have with my other forms of artistic expression. I consider photography a different way of drawing, for this I work a lot on the shadows and I always rely on my instinct rather than the rules.
7) Do you avoid the more explicit imagery in your art on purpose? Do you prefer your work to be more suggestive?
As I said, my goal is to provoke determined reactions in the viewer, creating an image (a painting, a drawing, a digital paint or a photo) that has personality and that doesn't leave indifferent who looks at it, for this I work a lot on suggestions too. I usually try not to go beyond the limit of the "explicit" that I enjoy to overcome in photography. I believe that the challenge of those who make erotic art is essentially to maintain grace and elegance even in representing what for somebody might be considered "vulgar".
8) I assume you are an avid movie fan since there are a lot of movie references in your art (Tarantino, Taxi Driver, Russ Meyer) and the invented movie posters. It probably has something to do with the great exploitation scene in Italy of the sixties and seventies. What is your favorite movie(s)?
I am inspired by what I like most and excites me: above all sensuality and feminine seduction, but also music and cinema. In fact I am a fan of the Americans b-movies from the seventies, but also Italians, the so-called "poliziotteschi", one of the greatest exponents of this film genre was a director born in a town close to mine, Fernando Di Leo, whom Tarantino himself lists among his masters. Then I love Russ Meyer's cinema because it is based essentially on three elements that are also at the base of my art: eroticism, provocation and irony. I love many movies, but my favorite is of course Pulp Fiction, in which Tarantino shows that he learned "the lesson" perfectly.
9) Are you familiar with the Japanese art of shunga?
Who makes erotic art can't disregard the knowledge of the shunga, this type of art is a great source of inspiration for everyone. Its strength lies in the fact that these artists, although representing eroticism and sexuality in their most explicit form, always manage to do so with grace and lightness.
10) Who are your favorite shunga artists and why?
Without a doubt Hokusai and Utamaro, of which I love the erotic force, often grotesque, mixed with irony and playful aspect, fundamental element, in my opinion, in the representation of eroticism.
11) You work both digital and traditional. Do you prefer the mouse or the pencil?
The pencil, with no doubt… Drawing is an expression of human nature, like talking, and we approach to it unconsciously in the same way, it's a natural gesture so everything starts from there. For example, I love tights (especially in black nylon) because they exalt the shape, the muscles and the curves of the body. But there's also a technical reason: the black nylons produce wonderful shadows on the skin, perfect to be represented with pencil, that's why I want my models to wear them often.
12) Can you live from your art? Do you work on assignment or do you work only from your own ideas?
In truth I never considered art as a job: it is impossible to cage it in defined schemes or consider it as something that must be done "by force". For me it's essential it always remains pure passion and fun. It 's natural that over time, given the good experiences and excellent feedback around the world, it has become a serious thing in my life. I always prefer to propose my things first, but I don't escape the market of commissioned work, however I am very careful that my artistic personality does not result altered in any way.
You can follow the artist's developments via Instagram…!!!
Click HERE and discover more fascinating modern shunga artists…!!!
Let us know your thoughts about the interview and Pettrili's work in the comment box below….!!